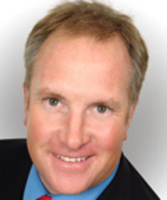 I go with what Warren Buffet has always said. I have to do what everyone else isn't doing
Chicago, IL (Vocus) October 12, 2010
The owner of RE/MAX of Barrington has done something few real estate professionals have dared to do in this economy: He's grown his business by acquiring another metro Chicago real estate office.
Paul Wells, broker/owner of RE/MAX Barrington at 306 W. Northwest Highway in Barrington, purchased Lake Barrington Realty in early October, which is located at 5043 Shoreline Road in Barrington. The office is renamed: RE/MAX Now.
The acquisition brings seven new agents to Wells' existing brokerage. In total, Wells' RE/MAX offices now boasts 50 agents.
This move may seem risky in a residential housing market that is sluggish.
But Wells disputes this: In his view, this was the perfect time to make the move.
"I go with what Warren Buffet has always said. I have to do what everyone else isn't doing," Wells said. "You can't be afraid to expand because of a tough market. I saw this move as an opportunity to help clients gain more exposure for their homes and for our agents to gain more business. If I would have decided to wait until the market got stronger, it might have been too late to make this kind of move. Now was a great time to buy the office."
The agents with the former Lake Barrington Realty specialize in serving the Lake Barrington Shores area, a development of roughly 600 attached homes. Wells' goal is to have these agents increase their expertise to include the detached homes in the area and to give them the presence of a national brand. It's this kind of progressive thinking that has led RE/MAX of Barrington to succeed in a market that has tempted other brokerages to close their doors.
"I put a tremendous effort in trying to make everything work," Wells said. "I'm not content to rely on old ideas. In today's market, you have to be innovative. That's the only way to succeed today. My job is to come up with new ideas and make new moves that can best help my agents and their clients succeed."
In suport of his philosophy, Wells points to the office meetings that he schedules for RE/MAX of Barrington. During these meetings, Wells brings in motivational speakers, financial experts, successful real estate brokers and anyone else whom he thinks can provide his agents with tips for succeeding in a difficult real estate market.
During a recent meeting, Wells brought in a specialist on virtual tours, a commercial broker who spoke about the steps to take to earn referrals, two financial planners who discussed the ways in which real estate agents can earn and keep more money, a specialist on the business benefits of social networking and a financial professional who provided tips on what banks expect from Realtors® during short sales.
Putting together such a roster is no easy task, but Wells says it helps keep his agents focused on what they must do to survive in today's market. "Even if our agents grab one extra tool from an office meeting, it's a win-win for everyone."
RE/MAX is the leader in northern Illinois real estate sales, and has ranked number-one in the metropolitan Chicago real estate market since 1989.
The RE/MAX Northern Illinois network includes 2,500 associates and more than 120 individually owned and operated RE/MAX offices. These offices provide residential, relocation and commercial real estate services throughout the northern one-third of Illinois.
The network's Web site, http://www.illinoisproperty.com, remains a top destination for buyers and sellers in the Northern Illinois region, while http://www.remax.com ranks as one of the most popular real estate Web sites in the nation according to rankings from online intelligence services Compete.com, Comscore and Hitwise.
M.illinoisproperty.com is the mobile platform most recently launched and provides full real estate search capabilities while being able to work with any browser-based mobile device.
RE/MAX Northern Illinois is part of RE/MAX International, a global real estate organization with 6,300 independently owned offices and 91,000 member sales associates in 83 nations.
###