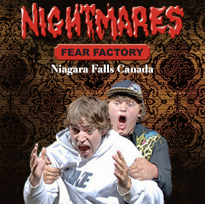 Niagara Falls, ON (PRWEB) October 13, 2010
Nightmares Fear Factory, the longest-running haunted house in North America, features all new frightening effects for Halloween 2010, but to find out what the changes are visitors will have to observe it for themselves - or will they?!
Nightmares Fear Factory, located in the Clifton Hill Tourist District in Niagara Falls (5631 Victoria Avenue), is a 15 minute walk-through attraction distinguished by its authentic 'theatre of the mind' experience; it preys on each visitor's own fears and phobias. Some make it through, but some chicken out (106,828 to date: really!).
Nightmares Fear Factory director of sales and marketing Vee Popat states, "We've been scaring the daylights out of thrill seeking Niagara Falls visitors 365 days a year for over 30 years! Halloween is always a special time of year for Nightmares…with our new effects and additional changes to our maze we're taking things to the next level to make Halloween 2010 one of our biggest and scariest ever."
A popular destination with locals, tourists and celebrities, (including Saw 2, 3, and 4 director Darren Lynn Bousman and Christopher Mintz-Plasse - "McLovin" on Superbad), guests walk the dreaded corridors (guided by red lights) and contemplate the mysterious legend that the building was once the site of the Cataract Coffin Factory.
The reputed "legend" states that the proprietor of the coffin factory Abraham Mortimer spent every waking hour surveying the progress of his domain. He was tormented nightly by young pranksters who taunted the eccentric old man and he would chase them off, as they laughed at his threats. One fateful night Mortimer confronted a rowdy group of thrill-seekers and in the ensuing struggle a stack of solid oak coffins fell and Abraham was crushed to death!
The guilty were never apprehended for their part in the gruesome murder and soon after his funeral, Abraham Mortimer's coffin was found unearthed and empty! To this day it is said he walks the halls seeking revenge on those who dare trespass on his beloved factory.
Survivor testimonials:
"You can save the best for last or just come here first and get the bejesus scared out of you." - Liisa Ladouceur, Rue Morgue Magazine
"Wow, I don't know how this could get any better. I've just never been that scared!" - Vivian De Courbal, Montreal, QC
"I was literally scared stupid. I didn't know where to turn or what to do. I wanted out!" - Guy Coutu, Wawa, ON
"It scared me to death!!! But it was well worth it! I could not find a better haunted attraction anywhere else." - Merrissa Lorrain, Ohio
For more information and fear photos and videos visit; nightmaresfearfactory.com.
EVEN BETTER: View actual footage of a visitor's experience:
http://www.youtube.com/watch?v=MI_6-Ui9XpA
For media information, media tours, passes and photos, please contact:
Vee Popat,
Director of Sales and Marketing
Nightmares Fear Factory
Tel: 905.357.3327
E-mail: vee(at)nightmaresfearfactory(dot)com
Website: http://www.nightmaresfearfactory.com
For general information, please visit:
nightmaresfearfactory.com
facebook.com/NightmaresFearFactory
twitter.com/NightmaresFear
youtube.com/NightmaresFear
###