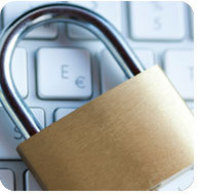 Over 90 percent of threats to confidential information come from key logging spyware or phishing attacks.
Bethesda, MD (PRWEB) October 12, 2010
Europ Assistance USA (EA USA), taking care of consumers, corporate customers and employees when the unexpected happens, today debuted here at the ASIS International Annual Seminar and Exhibits, its new Online Data Protection Suite. The optional upgrade to its premium identity theft service protects consumers from key logging and phishing attacks, providing a proactive, real-time layer of protection that goes beyond standard anti-virus, anti-spyware and firewall software.
EA USA's online data protection tools work alongside desktop anti-virus and security suites – combating new malware that conventional solutions fail to detect. Included in the suite is DataScrambler™, an anti-keylogging tool, and PhishBlock™, an anti-phishing technology.
"Over 90 percent of threats to confidential information come from key logging spyware or phishing attacks," said Glenn Maykish, vice president, sales and marketing at EA USA. "Our solution uses the most advanced plug-and-play technology to combat these threats and is a perfect complement to our identity theft protection and resolution services."
The anti-keylogging technology used in EA USA's DataScrambler operates at multiple levels of an operating system, using specialized techniques that thwart attackers aiming to steal data entered by a user. Attackers receive no data, or false data is fed back to them. The DataScrambler tool is inserted into a user's browser and shows the actual keystrokes being replaced by fake keystrokes, providing a visual display of how user information is being continuously protected.
EA USA's PhishBlock is proactive and customized, detecting phishing sites the very first time they are loaded by a user. Initially "trained" via proprietary methods to identify phishing sites of all major brands, PhishBlock can automatically identify a scam site and overlay a warning page to inform the user.
The Online Data Protection Suite from EA USA also:

Protects every keystroke users type (passwords, credit cards, identity info)
Prevents malware from taking pictures of users' data and stealing it
Prevents users from being lured to a fake (phishing) site that steals their data
Shows every keystroke users type being protected and displays a monthly report showing what data has been protected
Recent studies show that hotel networks are one of the largest targets of hackers and are particularly vulnerable to cyber attacks. The additional Mobile Data Protection Suite lets frequent travelers and road warriors take with them to any computer the same protection that the Online Data Protection Suite offers, wherever they are in the world.
The EA USA Online Data Protection Suite is provided through a partnership with SentryBay, a recognized leader in real-time data security software that directly protects a software/web application and its users.
About SentryBay
SentryBay is a leader in real-time data security software -- its proactive solutions offer unparalleled security in real-time preventing identity theft and theft of corporate data. This protects a user's online identity while protecting corporate brands and reputation. SentryBay is a privately held company headquartered in London, with offices in California, North Carolina, Washington, D.C. and Australasia. For more information please visit http://www.sentrybay.com
About Europ Assistance USA
Europ Assistance USA takes care of consumers, corporate customers and employees when the unexpected happens, anywhere in the world, providing immediate support and assistance to individuals in times of emergency and distress. Leveraging its worldwide network of 38 always-open multilingual assistance centers and 410,000 partners in 208 countries and territories, EA USA offers personalized medical travel assistance, identity theft resolution, data breach response and beneficiary assistance services to insurance companies, financial institutions, corporations and government organizations. Headquartered in Bethesda, MD, EA USA is owned by Generali and part of the Europ Assistance Group.
###