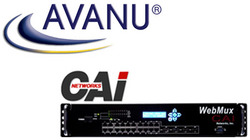 Products such as CAI Networks feature-rich WebMux Load Balancers coupled with an affordable price and superior support are key components in meeting our requirements. We work with trusted suppliers such as AVANU® ...
San Jose, CA (PRWEB) October 12, 2010
AVANU®, Authorized Distributor for CAI™ Networks today announces the availability of the WebMux™ 690PG Load Balancer with the release of Firmware version 8.7. The new firmware, which is compatible with the entire WebMux line, delivers enhanced security, improved SSL termination features, meets the standards for the Payment Card Industry (PCI), and supports multi-language for global customers. The high-performance, SSD designed, and IPv6 ready WebMux 690PG model supports Layers 2 - 7 with up to 4Gbps traffic in all modes (NAT, OOP, Transparent Mode) with multiple VLAN support and an integrated copper GigE 20-port switch that supports optical and comes with redundant power supplies. The WebMux family of hardware-based load balancers supports a multitude of options for traffic management – always with reliability, capabilities, and simple configuration and management resulting in high value and low cost of ownership.
"As a premier provider of mission critical hosting services to Corporate America and Government entities, products that meet our clients demanding security and reliability needs are crucial to ensure there is no interruption or derogation of the services they provide. Products such as CAI Networks feature-rich WebMux Load Balancers coupled with an affordable price and superior support are key components in meeting our requirements. We work with trusted suppliers such as AVANU®, who not only have a keen customer-centric focus but are technically savvy and understands both our and our customers' needs", said Jeff Willis, Vice-President of Technology at MIS Sciences Corporation.
WebMux new firmware extends the already reliable load balancing for applications such as Office® Communications Server 2007 R2, Office® Exchange Server 2010, and SharePoint® 2010 from Microsoft®. "As a Microsoft® Gold Partner with specialization in Unified Communications and Voice, Convergent is constantly implementing Office® Communications Server 2007 R2, now Lync™ Server 2010, and Exchange 2010 in complex, highly-available environments. AVANU® has been instrumental in supplying CAI's WebMux platform to Convergent. Our engineering team can quickly add advanced communication and collaboration capabilities and processes, at a good value for our customers" said Scott Jansen, Director of Operations at Convergent Solutions Group.
The WebMux 690PG load balancer supports Layers 2-7, ten (10) different load balancing methods, HTTP compression, multiple tag based VLANs, offers Layer 4 throughput of up to 4.0GBps, 200,000 transactions per second, and 5,760,000 maximum concurrent connections based on NAT mode (higher performance can be sustained in Direct Response/Out-of-path mode) with Layer 7 sustaining up to 144,000 connections.
WebMux Load Balancers Availability
WebMux 690PG load balancer is now shipping. WebMux Firmware v8.7 is available for all models. The family of WebMux Load Balancers Manufacturer's Suggested Retail Price starts at US$3,999.00. For additional information on WebMux, WebMux Firmware 8.7, Reseller and Annual Support Renewals, contact sales@avanu.com or call 1.888.248.4900 (US & Canada Toll Free); 1.408.248.8960 International.
About AVANU, LLC
Established in 1997, AVANU® based in the Silicon Valley of California is a worldwide value-added supplier with a focus on IT network infrastructure computer equipment, software, design and implementation services. AVANU's customers are system integrators, value-added resellers, web-hosting companies, ISPs, co-location entities, Fortune 500 companies, educational institutions, and local and federal government agencies. AVANU's long-term customers appreciate our honesty, responsiveness, high integrity, and customer-centric focus. AVANU® is a certified participant in the U.S SBA's 8(a)/SDB development program, DoD CCR, and IAE's ORCA certified. http://www.avanu.com/about.htm
About CAI Networks, Inc.
Founded in 1987, CAI Networks (http://www.cainetworks.com) specializes in Internet/Intranet appliances and server reliability solutions and is a leading provider of load balancers. CAI has its engineering and sales offices in Southern California. WebMuxes are installed worldwide by businesses, government agencies, and ISPs to maintain the reliability and availability of websites, portals, and web-based applications. CAI Networks is a member of the Microsoft and Oracle partner networks.
Copyright © 2010 AVANU, LLC. San Jose CA USA. All rights reserved.
AVANU is a Registered Trademark of AVANU, LLC
All other trademarks and registered trademarks are the property of their respective owner(s)
###