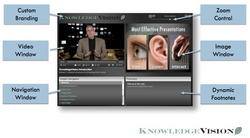 These are the features our customers have been asking for, as they become more proficient and interested in exploring new ways to use KnowledgeVision presentations.
Concord, MA (Vocus) October 12, 2010
KnowledgeVision Systems, which markets an enterprise solution for creating synchronized video presentations for the Web, today announced a new release of its KVStudio presentation authoring tool. KVStudio 3.0 includes new features for combining online video, Microsoft PowerPoint slides, images, and virtual handouts into tightly synchronized presentations that can be viewed on the World Wide Web, anywhere and at any time.
The new release includes key enhancements that enable cross-team authoring of presentation projects, flexible hosting options, and significantly improved handling of PowerPoint images.
A growing number of companies are using KnowledgeVision for high-impact, low-overhead business communications. KVStudio 3.0 and the KnowledgeVision Online Presentation Platform work with any type of computer and browser, and are delivered as a convenient software-as-a-service (SaaS) solution -- so there's no need to purchase any appliances, servers or special software.
KnowledgeVision Systems brings together two powerful and popular forms of media: (1) the narrated PowerPoint presentation and (2) online streaming video. More than 30 million PowerPoint presentations are given each day. Nearly 85% of the US online audience watches video on the Internet today, and the number of streams consumed is projected to more than double by 2013. The proliferation of Online Video Platforms like Brightcove and Ooyala and public video-sharing sites like YouTube makes it easy for businesses to publish their video.
KnowledgeVision presentations can work with video from any source, including production video systems, webcams, flipcams, or the Camtasia Studio screen capture and recording system. Businesses can quickly turn their video assets into engaging presentations for on-demand and live delivery.
"When businesses use KVStudio to knit together PowerPoint presentations and video, the presentations jump off the screen -- especially when combined with KnowledgeVision's dynamic footnotes and virtual handouts," said Michael Kolowich, founder and executive chairman of KnowledgeVision Systems. "KnowledgeVision presentations recreate the dynamics of in-person presentations, but without the constraints of time and place. So, businesses can now deliver rich presentations -- whether on-demand or live -- and really connect with prospects, customers, partners and employees."
Some of the new features of the 3.0 release of KVStudio are:
o An improved user interface that makes it much easier to create KnowledgeVision presentations, using three simple steps: (1) add content, (2) synchronize, and (3) publish.
o Richer publishing features, including the ability to include virtual handouts that viewers can read or download. Presentation authors can upload attachments with a single click; handouts are stored online along with the slides and presentation templates.
o Enhancements to the automated PowerPoint conversion system, which converts PowerPoint slides to vector images for use with KnowledgeVision's unique zoom control; KVStudio can now handle a broader range of PowerPoint fonts and graphics.
o Improved collaboration -- because project files are now stored online, teams can work on the files or individuals can work on the same project from different computers.
o Easier updating of slides -- correcting a typo or updating a slide simply involves uploading a new version and then choosing which existing slide or slides to replace. When a slide is replaced, KnowledgeVision automatically maintains all of the other related data -- the cue points, attachments, footnotes, and so on.
o A new import feature to simplify the migration of presentations created with appliance-based solutions including Accordent and Sonic Foundry's Mediasite.
o JavaScript support, for creating advanced player controls. For example, presentation authors can create interactive calls-to-action in a presentation, and build pauses into a video so the viewer can visit a related site.
Kolowich said, "These are the features our customers have been asking for, as they become more proficient and interested in exploring new ways to use KnowledgeVision presentations."
Reference Links:
Learn more about KVStudio 3.0
View examples of KnowledgeVision in action
Schedule a KnowledgeVision demonstration
About KnowledgeVision Systems
Based in Concord, Massachusetts, KnowledgeVision serves the world's growing need for on-demand and live knowledge by creating rich, engaging Adobe Flash presentations that are viewable on the Web at any time with any type of computer. KnowledgeVision's hosted authoring tool, KVStudio, enables communications professionals to create presentations that tightly synchronize video, PowerPoint, images, and virtual handouts. KnowledgeVision presentations are used for on-demand training, product demonstrations, marketing, sales, investor relations, and preserving the value of in-person presentations made by companies and organizations around the world.
# # #