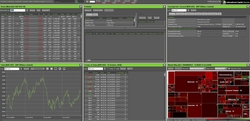 "We understand commission rates are important to active CFD traders and we are committed to providing our clients with low DMA CFD commissions and the latest trading technology"
(PRWEB) October 13, 2010
Clients of CFD trading company IC Markets are the first to benefit from the company's new commission structure, clients are expected to save millions this year thanks to the company's new tiered direct market access (DMA) CFD commission rates on the webIRESS Plus trading platform.
In recent times there has been a significant amount of market volatility, prices can fluctuate quickly creating trading opportunities which clients can now take advantage of due to lower commission rates and one of the industry's fastest DMA CFD trading platforms, webIRESS Plus.
Consider this scenario, an active CFD trader trades on average four times a day with a trade size of approximately $20,000. Most DMA CFD providers would charge this trader 0.10% commission on a $20,000 transaction. Over the year this trader would pay over $40,000 in commission charges alone. With IC Markets new active trader tiered commission rate of 0.05% this trader would only pay around $20,000 in commission, a 50% saving without even considering the saving in financing charges. With IC Markets tiered commission rates active traders on 0.03% commission can save as much as 70%.
International Capital Markets (IC Markets) Managing Director Andrew Budzinski said: "We understand commission rates are important to active CFD traders and we are committed to providing our clients with low DMA CFD commissions and the latest trading technology."
IC Markets new webIRESS Plus platform allows its clients to trade DMA CFDs on global exchanges as well as ASX listed shares.
"IC Markets is committed to offering low commission rates allowing our clients to take of advantage of more trading opportunities and gain an edge in the market. Our new tiered commission structure on the webIRESS Plus platform reflects our commitment to provide industry leading software and excellent value for money cementing our position as a market leader in DMA CFDs," Mr Budzinski said.
Active trading clients of IC Markets are given priority access to highly sought after Initial Public Offerings (IPO's) in addition to a wider range of short-sellable CFDs.
Contracts for Difference (CFDs) are an agreement to exchange the difference in value of a particular asset between the time at which the contract is opened and the time at which it is closed.
END
About International Capital Markets (IC Markets)
IC Markets specialises in share and derivative trading offering Contracts for Difference (CFDs) over thousands of global equities, commodities, options and indices in addition to forex trading via multiple on-line platforms. IC Markets is head quartered in Sydney and has clients worldwide. For additional information please call +61 2 8014 4280.
CFD trading may not be suitable for everyone so please ensure that you fully understand the risks involved. Please consider IC Markets PDS available from IC Markets before entering into any transaction with us. All fees and charges are available from IC Markets website and should be considered before opening an account.
###