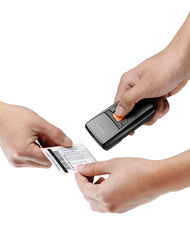 I'm very pleased to announce our plan for the new Pidion BI-500 rugged handheld scanner after we released BIP-7000 smart handheld computer in early September.
(PRWEB) October 22, 2010
Bluebird Soft Inc., a global provider of mobile computers, unveiled the new Pidion BI-500 at GITEX 2010 and is set to launch it in early 2011. The rugged handheld scanner, providing field ready condition (IP54), flexible data capture, integrated GPS and powerful battery capacity, is designed to deliver increase work efficiency and asset visibility. The BI-500 is targeted for all application featuring mobility in scan-intensive industries such as warehousing, postal logistics, manufacturing and transportation.
BI-500 rugged handheld scanner runs on Windows CE Core and is built to be suited for harsh work environmental specifications to satisfy the needs of field workers. It meets IP54 sealing requirements, withstands 18 drops at 1.5m to steel surface and operates in a temperature range of -10 to 40. This rugged handheld scanner delivers real-time data collection capability with 1D laser scanner or 2D CMOS imager and RFID reader. With an integrated GPS, it improves asset visibility across field-based operations. Bluetooth wireless connectivity makes it easy to transmit collected data to any mobile device. It provides 0.96" LCD display with enlarged scan, up and down buttons. Its long lasting 1,130mAh Li-ion battery causes no more troublesomeness to change batteries frequently unlike mercury batteries powered scanners.
Jangwon Lee, President and CEO of Bluebird Soft Inc., said "I'm very pleased to announce our plan for the new Pidion BI-500 rugged handheld scanner after we released BIP-7000 smart handheld computer in early September." He added, "At Bluebird Soft Inc., we have been listening to actual users' requirements since our first Bluetooth handheld scanner introduced in the market. The users have told us they need a handy yet rugged scanner which is fully integrated with the latest technologies and we began to develop the next generation of handheld scanner. We always care for our customer's business operation in more efficient and continue to enhance and extend our Pidion product lineup to provide speedy response for our customers."
The BI-500 rugged handheld scanner will be available in early 2011.
About Bluebird Soft
Bluebird Soft Inc., founded in 1995, has become one of global leading manufacturers of mobile computers including handheld computers , enterprise PDAs, mobile POS , payment terminals and handheld barcode scanners. Bluebird Soft and its manufacturing facility are based in Seoul, South Korea and it operates branch offices in US and China. It provides versatile product lineup, flexible customization and prompt support under the brand name of Pidion. Its Pidion mobile computers are found worldwide in applications where powerful, reliable and robust devices are paramount, such as in-flight sales, mobile ticketing, store management, law / parking enforcement, route accounting, inspection, facility maintenance and warehouse operations. For more information about Bluebird Soft, please visit http://www.mypidion.com or call +82-70-7730-8000.
###