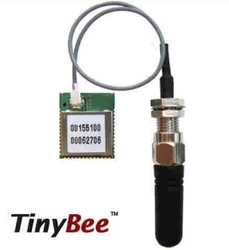 Firmtech's RP-M110, 14.9 x 17.9 x 2.6mm in size, is one of the compactest zigbee OEM module in the world.
(PRWEB) October 28, 2010
Firmtech, an industrial wireless solution provider, has released a new wireless network product-line with ZigBee solution, RP-M100 and RP-M110. Firmtech's RP-M110 is based on IEEE802.15.4, compact and SMD-type Zigbee wireless communication module that chip antenna and RP-M110 combine as helical shape. Firmtech's RP-M100/M110 lines enable users to add ZigBee network functionality to users' devices with different type of device interface. It aims to allow OEM manufacturers to easy and costs effectively integrate ZigBee' function into target products in a timely manner.
RP-M100 comes in two versions depending on the firmware loaded in the internal flash memory to operate the product; RP-M100 (Stack) has a Zigbee stack-based firmware, and RP-M100 (MAC) has a MAC Layer-based firmware.
The module is designed to meet specific requirements of low-cost, energy saving, and especially small in size (14.9 x 17.9 x 2.6 mm ( W x L x H )) wireless applications such as mobile devices or smart energy by adopting ZigBee technology. It is advantageous for SMT production and better as a Zigbee embedded module inside various products for its smaller size.
Further information on the products:
RP-M100 Stack:
http://www.firmtech.co.kr/01pro/main_eng.php?index=100&proinfo=101
RP-M100 Mac:
http://www.firmtech.co.kr/01pro/main_eng.php?index=100&proinfo=103
RP-M110 Stack:
http://www.firmtech.co.kr/01pro/main_eng.php?index=100&proinfo=102
RP-M110 Mac:
http://www.firmtech.co.kr/01pro/main_eng.php?index=100&proinfo=104
# # #