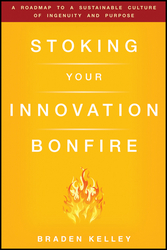 Good business leaders create a vision, articulate the vision, passionately own the vision, and relentlessly drive it to completion.
Hoboken, NJ (PRWEB) October 12, 2010 - Every successful organization began as a nimble, innovative start-
up with the ability to course-correct and quickly adapt to the needs of its customers. But over time, success and growth often causes changes in the structure, the culture, and sometimes even the vision of the business. STOKING YOUR INNOVATION BONFIRE: A Roadmap to a Sustainable Culture of Ingenuity and Purpose (John Wiley & Sons; $34.95; Available Now) helps organizations identify and remove those barriers to innovation that have both interfered with success and prevented it from achieving sustainable growth and change. Filled with case studies and proven guidance, this book evolves leading innovation theories into coherent, practical applications that anyone can implement in their own organization.
A major conflict companies face is that innovation is about change, and organizations and individuals resist change. But, the companies that successfully innovate in a repeatable fashion and stay at the top of their industries have one thing in common; they are good at managing change. In today's fast-paced marketplace, those unwilling to change are often left behind. Innovation thought leader and author Braden Kelley offers readers the strategies they need to overcome barriers and revolutionize their businesses to maximize profits. He shares the profound insight, simplicity, and uncommon sense that have helped countless organizations get back their innovative spirit and use the collective wisdom and passion of their employees. With an interactive website including 'health checks' and an 'innovation audit', as well as video and text interviews, this book provides professionals with the tools needed to reframe the business's innovation strategy and goals to successfully supply the marketplace with revolutionary solutions. Inside STOKING YOUR INNOVATION BONFIRE, readers will find world-class guidance on overcoming a business's blockages in the areas of:
•Vision & Strategy
•Goals
•Insight
•Idea generation and evaluation
•Idea commercialization
•Organizational psychology
•Information and structure
•Sustainability
Jack Welch, former CEO of General Electric, once said, "Good business leaders create a vision, articulate the vision, passionately own the vision, and relentlessly drive it to completion." Innovation has become the focus not only for businesses, but for governments, and whole economies too, as countries seek to secure high paying jobs for their citizens. STOKING YOUR INNOVATION BONFIRE helps managers overcome obstacles that have crippled the innovation superpowers that made the organization successful. Managers that read and absorb this book will be able to make immediate changes in their organization to recapture its original innovative spirit.
ABOUT THE AUTHOR:
BRADEN KELLEY (Seattle WA) is the Founder of Business Strategy Innovation and has been advising companies (e.g., Microsoft, Wunderman, Tigo Africa, Misys, and Homeaway.com) on how to increase their revenue and cut their costs since 1996. Braden is a thought leader on the topic of continuous innovation and works with clients to create innovative strategies, effective customer marketing, organizational change, and improved organizational performance. He has published more than 400 articles for online publications, as well as for BloggingInnovation.com. On Twitter, he is an innovation leader with over 7,000 followers. Braden runs a LinkedIn group with almost 4,000 members, and his YouTube videos have received over 11,000 views. An experienced public speaker, blogger (338k visitors in September), and digital marketing strategist, Braden will engage readers on http://innovationbonfire.com.
STOKING YOUR INNOVATION BONFIRE
A Roadmap to Sustainable Culture of Ingenuity and Purpose
Published by John Wiley & Sons, Inc.
Publication date: Available Now
$34.95; Hardcover; 188 pages; ISBN: 978-0-470-62167-7
###