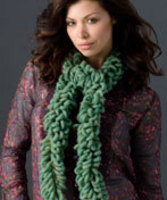 The colors of the yarn are more sophisticated and create a unique look that is fun and great for quick projects.
Charlotte, NC (PRWEB) October 14, 2010
The next generation of unique fashion yarn is here! Red Heart® Boutique™ features six new quality yarns that can be knitted or crocheted into beautiful accessories and garments.
"The Boutique collection is inspired by European yarn trends with textures that make them irresistible." said Nancy Thomas, Creative Director of Red Heart® Yarns. "The colors of the yarn are more sophisticated and create a unique look that is fun and great for quick projects."
The six innovative yarns in the new Boutique™ collection:
Red Heart Boutique Eclipse Yarn. Soft, wool blend yarn with a gorgeous subtle striping pattern. One color melts into the next creating a beautiful effect with a high end look. This versatile chainette yarn can be used for a wide range of projects including accessories and apparel.
Red Heart Boutique Changes Yarn. With six yarns in one, this appealing textured yarn has ample yardage to make a one-ball scarf. The six different yarns are a combination of texture, metallic, and brushed in tonal colorations. Changes is available in six shades and ideal for accessories, as well as, garments.
Red Heart Boutique Swirl Yarn. Soft texture is the perfect description of Swirl. A combination of quick-to-make and ease-of-use makes it ideal for beginners as well as the more advanced. It makes beautiful scarves, hats, and other unique accessories.
Red Heart Boutique Cosmic Yarn. Cosmic is fun to use and the super bulky weight allows knitters and crocheters to create scarves in just a few hours. The fun-to-make drop scarf featured on the label is on our YouTube channel with a "how to" video showing the fun technique. This yarn will surely have customers return to buy again and again.
Red Heart Boutique Big & Lite Yarn. The latest news in yarn is thick yarns with a soft, light feel that contributes to a beautiful drape. This super bulky weight yarn is ideal for knitters and crocheters who don't have lots of time and want to create fashionable, fun projects that are easy-to-make.
Red Heart Boutique Fur Sure Yarn. A next generation of faux fur has arrived. It is subtle in appearance and colorations and also ultra soft. Use it for easy scarves and for accents and trims on anything you'd like to spice up with furry texture.
For more information about Red Heart® Boutique™ and other free project ideas, visit http://www.coatsandclark.com, http://www.redheart.com and http://www.shopredheart.com.
Coats & Clark is one of the most recognized names in yarn, sewing and needlecraft products in America. First marketed in 1936, the Red Heart® brand today continues to exude its founding principles; quality, value and inspiration for the knitting and crochet enthusiast.
View our Facebook page at http://www.facebook.com/redheartyarns and follow us on Twitter at http://www.twitter.com/redheartyarns
###