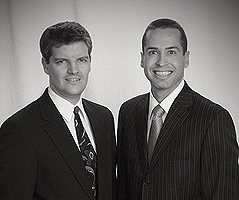 "The recession has fundamentally changed the way lawyers do business. The days of unlimited hourly billing are coming to an end."
Minneapolis, MN (PRWEB) October 14, 2010
People facing the prospect of a contested divorce proceeding have a new option when it comes to hiring a lawyer – pay a certain, flat fee for your legal representation. For years, divorce attorneys have offered clients flat fees in uncontested cases, but Gadtke & Beyer's new Divorce Attorney Fee Program is one of the first to begin offering clients the same option in contested cases.
"Some attorneys think we're crazy," says Robert Gadtke, a partner at Gadtke & Beyer, LLC, a Minneapolis area law firm focusing on divorce and family law issues (http://www.gadtke.com). "I don't see it that way. The recession has fundamentally changed the way lawyers do business. And we can either adapt to that change or we can fight against it. But, either way, the days of unlimited hourly billing are soon coming to an end."
Divorce attorneys have historically charged clients by the hour. And while there remains great variation in the amount lawyers charge, even the lowest hourly rates are often beyond the reach of many middle-income families. According to a 2009 article in the Hennepin Lawyer, approximately 70 percent of family law filings in Hennepin County were initiated by a person without a lawyer.
"It's not that people don't want to hire a lawyer." Gadtke says, "They do. It's just that they can't afford to hire one using the hourly billing approach. My friends and I joke that there is something wrong with our system when we can't afford to hire ourselves."
Gadtke believes that shifting away from hourly billing and towards flat fee representation will encourage lawyers to make better use of technology and to work more quickly to solve their clients' problems. "Sure, my clients want fair a result, but they also want their cases resolved quickly and for far less money than what many attorneys charge."
If you're getting divorced and worried about affording an attorney, you might want to consider flat fee arrangements.
Learn more about Gadtke & Beyer's Divorce Attorney Fee Program at http://www.gadtke.com
Press Contacts for Gadtke & Beyer, LLC
Robert W. Gadtke
Attorney at Law
Gadtke & Beyer, LLC
6600 France Avenue South, Suite 680
Edina, MN 55435
Email: rgadtke(at)gadtke(dot)com
Tele: (952) 345-8004
Fax: (952) 920-2209
http://www.gadtke.com
###