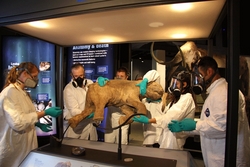 Liberty Science Center, 222 Jersey City Boulevard, Jersey City, NJ, Oct 15, 11am -
Jersey City, NJ (Vocus) October 12, 2010
MEDIA PREVIEW: 1pm
RSVP 201.253.1335, mmeluso(at)lsc(dot)org
Mammoths and Mastodons: Titans of the Ice Age explores the lives of these majestic animals and the environments they traversed. It also guides guests on an exploration of climate change then and now, helping visitors of all ages understand the implications of changing ecosystems. This exciting exhibition from The Field Museum, Chicago, brings a rich collection of fossils, touchable casts, real preserved animal tissue, immersive media, and engaging interactives to the NJ-NY area for the first—and only—time.
Real mammoth on view for a limited time in only two cities
The star of the show will be a real, completely preserved baby mammoth discovered in Siberia in 1997. Named Lyuba, she will be on view in only two North American locations this year–Chicago and Jersey City– before she returns to Russia after November 10. The dramatic and astonishing discovery of Baby Lyuba was featured in National Geographic magazine and on television.
In Mammoths and Mastodons, guests will revel in the sheer size and diversity of the proboscidean family -- from its ancestors in Africa more than 50 million years ago to the comparatively small dwarf mammoths that survived until an astonishingly short time ago: the last one died out around 2,000 years ago.
Walk through immersive ancient landscapes and learn how to hunt powerful animals, see real Ice Age artworks, touch teeth and fur, and discover more in this multi-sensory exhibition suitable for all ages. Explore how scientists use bones, DNA, and microscopic pollen to learn more about these amazing animals—how they lived, where they lived, and why they died. Finally, hear what scientists conclude from the extinction of these massive creatures in times of great environmental change.
Could their living cousins - the elephants - and humans meet the same fate? This outstanding exhibition helps guests of all ages and backgrounds understand complex issues of today's conservation biology.
This exhibition was created by The Field Museum, Chicago.
About Liberty Science Center
Dedicated to providing transformative experiences that connect schools and society with science and technology, Liberty Science Center is the New Jersey-New York City region's largest science education resource. Motivated by an innovative philosophy and enabled by a $109 million expansion and renewal, Liberty Science Center is bringing the excitement of science to students, educators, families and adults in engaging new ways and establishing a progressive benchmark for the science center field. Liberty Science Center is located in Liberty State Park, Jersey City, NJ.
###