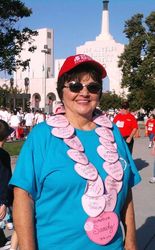 I know it's a very personal thing, but the best thing you can do is talk about it
Carthage, MO (PRWEB) October 13, 2010
Sandy Barum from Twin Peaks, CA has been a Precious Moments collector since 1980. She is a wife, a mother, a grandmother, and a great-grandmother. She has also been a breast cancer survivor since 2001 and has since made it her mission to help others affected by the disease. Her positive attitude and sense of humor have helped her through her illness and now these qualities bring comfort to those dealing with the effects of breast cancer.
Today, after a double mastectomy, chemotherapy, and reconstructive surgery, Sandy is happily cancer-free. She participates in cancer walks every year and many of her Precious Moments friends sponsor her with donations. As a "thank you" to those who have donated, Sandy wears little hearts with the names of loved ones who are in remission or who have passed as a result of the disease. She has also given talks about breast cancer and her fight against it at Precious Moments conventions over the years.
She offers some sage advice for others who have been diagnosed with breast cancer. "I know it's a very personal thing, but the best thing you can do is talk about it," Sandy advises. "There are so many people out there dealing with it, and the more you share, the less alone you feel." Very wise words from a woman who has been through a lot, and never lost her smile.
On Saturday, October 16, 2010, Precious Moments retailers across the country will host the "Together We Can Win The Race" event. The event will raise awareness and funds for Precious Moments, Inc.'s new philanthropic partner, National Breast Cancer Foundation (NBCF). A new figurine, also titled, "Together We Can Win The Race," will be offered to inspire new hope in the fight against breast cancer. More information about the event, including participating retailers, can be found on the calendar of events page at preciousmoments.com.
On a special shelf in Sandy's home sits her collection of Precious Moments figurines created for breast cancer awareness. "When I look at these pieces, I have hope. They tell me there are a lot of people out there who care," Sandy explains. She hopes to attend one of the retail events later this month, and will continue to share her story and listen with an attentive ear to anyone needing a friend.
About NBCF
Recognized as one of the leading breast cancer organizations in the world, NBCF's mission is to save lives through early detection and to provide mammograms for those in need. NBCF provides Help for Today…Hope For Tomorrow® through its National Mammography Program, Early Detection Plan®, MyNBCF online social community, and breast cancer research programs. For more information about NBCF, visit nbcf.org.
About Precious Moments
Precious Moments, Inc., with offices in suburban Chicago, Ill. and Carthage, Mo., home of the renowned Precious Moments Chapel, is a privately held, family owned business. Known the world over, porcelain Precious Moments figurines and coordinating gifts are based on the inspirational artwork of Samuel J. Butcher. These tear-drop eyed children deliver messages of joy, hope, faith and comfort. Principally, PMI is the owner of all Precious Moments artwork and is the exclusive licensor to more than 100 prominent companies. Established in the early 1970s, the company has a long tradition of partnering with worthwhile causes, such as NBCF, giving back to communities across the nation and around the world. For more information about Precious Moments, Inc., please visit preciousmoments.com.
###