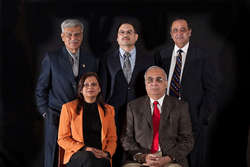 We continue to execute an aggressive-yet-stable strategy for growth.
Montvale, NJ (PRWEB) October 13, 2010
For the second consecutive year, DATA Inc., a globally recognized and award-winning IT Solutions Provider has been named to the Top Technology Consultants list for New Jersey by NJBiz Newspaper.
"We continue to execute an aggressive-yet-stable strategy for growth" says Arun Verma, President and CEO of DATA Inc. "Ranking on this specific list for a second year in a row, re-affirms that we are beating the economy and will be positioned to take on new opportunities for growth as business moves to higher levels of activity."
The list, published by NJBiz on a yearly basis, ranks IT Consulting Organizations by total employees and consultants based in New Jersey. DATA Inc. continues to rank towards the top of this list and has effectively expanded its public and private sector client list throughout the United States in general and within New Jersey in particular.
"Last year, I said we were determined to overcome the recession economy" said Conrad Leao, Vice President of DATA Inc. "Today, I can say we have rode out the waves of the economy well and are now poised to move forward."
NJBiz's Top Technology Consultants List is out in the October 11th edition of NJBiz Newspaper. For more information and to obtain copies of the list, please visit http://www.njbiz.com.
For more information on DATA Inc., please visit http://www.datainc.biz.
About DATA Inc.
Since 1983, DATA Inc. has provided IT solutions to Fortune 50 and Public Sector organizations. Throughout the organization's 25+ year history, DATA Inc. has grown into an award-winning full service IT solutions provider headquartered in Montvale, NJ with development centers and offices throughout North America, Europe and Asia.
###