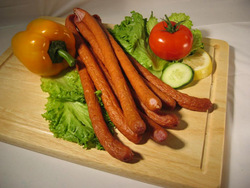 ...just a line to share with you the pleasure the taste of your kielbasa, flaczki, boczek and makowiec brought me; it was just as being back in Lwow before the war. I am 93-years-old, but my taste buds remember...
Brooklyn, NY (PRWEB) October 13, 2010
David Rosengarten, well known food writer, devoted August issue of his award winning newsletter "The Rosengarten Report" to Polish sausage. He conducted a massive tasting of 250 Polish sausages from various sources all over the country. Six of Sweet Poland's kielbasa brands received the highest ranking making the bookstore turned into the internet meat market an industry leader in terms of quality. Kielbasa Czosnkowa (Garlic Sausage) and Zwyczajna (Common Sausage), topped the list of the grilling kielbasa. Four others were considered the best in the Eat-As-Is category: Krakowska Sucha (Dry Krakow Sausage), Mysliwska (Hunter Sausage), Domowa (Home-Made Syle Sausage) and Kabanosy Swojskie (Smoked Links Old Country Style) which Mr. Rosengarten called "the masterpiece".
For an average American consumer "Polish kielbasa" is associated with the product available in supermarkets. Most Poles living in US as well as gourmets familiar with real thing wouldn't even come near this imposter. The authentic Polish kielbasa divides into many different brands and flavors and is difficult to find unless you live in Polish neighborhoods in Chicago or Brooklyn.
That's why after its launch http://www.sweetpoland.com collected many enthusiastic opinions, specially from Polish customers deprived of their favorite Polish food staples. Few examples:
"Thank you for giving me opportunity to return to "flavors of Poland"!" - Krystyna Krupa, Moorhead, Minnesota.
"The Polish online store was a great idea - specially for those of us who live in the states without access to Polish stores. The biggest hits were kabanosy, kielbasa jalowcowa and kiszka!" - Prof. Dr. Grazyna Rajkowska, Jackson, Mississippi"
"...just a line to share with you the pleasure the taste of your kielbasa, flaczki, boczek and makowiec brought me; it was just as being back in Lwow before the war. I am 93-years-old, but my taste buds remember..."
Frank Stiffel, Queens, New York
Thanks to the fabulous reviews in the "Rosengarten Report" as well as internet marketing the Polish food offered on http://www.sweetpoland.com gained many new non-Polish believers. Typical comment after the first contact with real Polish kielbasa:
"The party was fabulous and all the Kielbasa was gone. I personally can't get over how good the Kielbasa was. The 2 served cold were delicious and the garlic one grilled was voted the best."
Phil LaMarche, Palm Harbor, Florida
Most of the cold cuts sold by Sweet Poland are produced by Bacik Company of New York.
Polish Bookstore opened in 1990 as a mail order business selling Polish books, movies and music. It has produced over 50 catalogs, built large data base of individual customers and libraries and opened a physical bookstore in Polish neighborhood of Greenpoint. Next came the website http://www.polbook.com which quickly became popular worldwide. Thanks to steady growth in 2006 the decision was made to invest into the second, much larger "flagship" store for the company. Costly renovation followed and the shelves were filled with hundreds of imported books - then the big crash came. The US currency went spiraling down: from almost 5 Polish zloty to below 2 zloty for a US dollar! It made the import terribly expensive and books became too costly for the average pocket. The economic crisis influenced almost everybody.
The company had to close the new store, stopped publishing the catalogs and was left with debt and diminishing number of customers. Many left for Europe which offered better economic opportunities.
After brainstorming in almost hopeless situation the owners realized that their biggest asset was data base of customers who had a positive experience with the company. All they needed to use that advantage was new, easier to sell, line of products. The location in the Polish neighborhood of Greenpoint with its multitude of stores selling delicious Polish food helped to select the new products that could be sold to old customers as well as general audience. Everybody eats, right?
They found the wholesalers, negotiated the agreements and thus new website http://www.sweetpoland.com was born. It offers a large selection of Polish kielbasa and traditional cold cuts, pierogi, bread and cakes, preserves, wild mushrooms, soups and relishes, candies, chocolates and more. Many of those goods are imported from Poland.
Parts of the proceeds from Polish food sales subsidize still limping bookstore. The owners did not abandon their original idea of promoting Polish culture in USA. So everybody who buys Polish kielbasa from Sweet Poland supports literature and cultural exchange which gives it even more flavor…
To purchase Polish food or get more information visit http://www.sweetpoland.com or call 1-800-277-0407.
About Polish Bookstore
Polish Bookstore & Publishing Co. located in Brooklyn is a store serving New York Polish community. The orders from its website http://www.polbook.com are shipped worldwide.
The Polish food website run by Polish Bookstore http://www.sweetpoland.com ships orders within the United States.
###