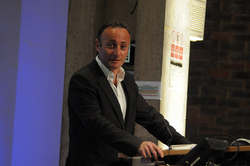 Brain differences between men and women may explain why women seem to be more focused on the long-term challenges of sustainability and environmental change than men
(PRWeb UK) October 13, 2010
Brain differences between men and women may explain why women seem to be more focused on the long-term challenges of sustainability and environmental change than men, says Morice Mendoza, CEO of diversity and sustainability communications company MENDOZAMEDIA.
To explore the issue, the study selects some of the women leaders working at the most senior levels in companies ranked as the most sustainable companies in the world in 2010.
These include Beth Comstock, CMO of General Electric and one of the architects of the billion dollar ecomagination business, Barbara Kux, Chief Sustainability Officer at Siemens AG, and Nancy McFadden, a former deputy chief of staff to Al Gore and presently senior adviser to the head of the Californian energy company, PG&E.
The article suggests that women may play a significant role at the higher reaches of business in driving forward sustainability. This, in turn, reinforces the importance of ensuring organisations have a healthy balance of men and women at the top to meet the major challenges of the century.
CONTACT
Morice Merndoza
Tel: +44(0)1223 504073
Mobile: +44(0)7944 128298
###