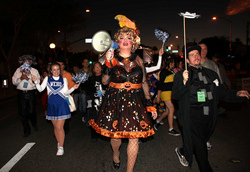 Halloween falls on a Sunday this year, making this the ideal time to stay the weekend and experience the sights and frights of West Hollywood before ending with a bang at the Carnaval.
West Hollywood, CA (Vocus) October 12, 2010
Nearly half a million Halloween revelers will descend on Santa Monica Blvd. on October 31, 2010, for the 23rd annual West Hollywood Halloween Costume Carnaval, once again comprising the world's largest Halloween street festival.
Arriving in time for Halloween, The Rocky Horror Picture Show 35th Anniversary is coming to the Carnaval for a very special one-off engagement. One of the stages of the event will be devoted to performances honoring this legendary cult film throughout the night. Another main stage, Club 25, will feature house band Tranzkontinental, the Wandering Marionettes, aerialists The Birds and a rock & roll strip show. In addition to the two main stages, four smaller stages will feature DJs, graffiti artists, voguers and go-go dancers.
A parade will kick off the evening just before 7 p.m. starting at La Cienega & Santa Monica Boulevard. The parade will include members of the Rocky Horror Picture Show cast, stage performers and city officials being transported in pedi‐floats down Santa Monica Blvd. The event will close out with a Guinness Book record-breaking performance of Time Warp synchronized across all six stages of the event.
To make room for this monstrous bash, the city will close Santa Monica Blvd. between Doheny Dr. and La Cienega Blvd. The Carnaval begins at 6 p.m. and ends at 11 p.m., but the party in the bars along Santa Monica Boulevard rolls into the dead of night. For more information about the West Hollywood Halloween Costume Carnaval, including parking and transportation information, please visit http://www.westhollywoodhalloween.com.
Halloween falls on a Sunday this year, making this the ideal time to stay the weekend and experience the sights and frights of West Hollywood before ending with a bang at the Carnaval. Here are a few of the many things going on Halloween weekend:
The Comedy Store - October 29 at 11:55 p.m. - The Comedy Store is long-known as one of the most Haunted places in Hollywood. Get a behind the scenes look at all the creepy happenings, see the results of paranormal researchers and a live séance, and hear firsthand accounts from Comedy Store staff of hauntings by "Gus" and "The Lady in White." Plus view rare documentary footage about the hauntings and take a super scary flashlight tour of The Comedy Store. (Other upcoming dates are October 15 and October 22, 2010).
Annual Doggy Costume Contest – Saturday, October 30 at 4 p.m. – Hosted by The City of West Hollywood, this adorable contest is held at West Hollywood Park. Winners receive prizes for a variety of categories including scariest costume; look-alike (pet and guardian); most creative costume; most colorful costume; and best costume.
Mr. Bones Pumpkin Patch – Daily hours 9 a.m. to 8 p.m., Halloween hours 9 a.m. to 3 p.m. – Visit Mr. Bones Pumpkin Patch, where magical Halloween memories are made. Mr. Bones offers beautiful fresh autumn decorations, long-stemmed pumpkins, cornstalks, Indian corn, gourds, squash, straw bales and an outrageous Halloween boo-tique.
Hotel Specials
Book a hotel room at one of West Hollywood's hotels and awaken the dead with a weekend of thrills and chills. These hotels are offering special Halloween packages:
Chamberlain West Hollywood "Bloody Sunday" Package – This package includes breakfast for 2 with endless Bloody Marys; rates start from $242. The Chamberlain is also holding a "Happy Halloween Hour" on the pool deck from 4 -6 p.m. with Halloween-themed food and drink specials and prizes for best costumes. Book online at chamberlainwesthollywood.com.
Le Parc Suites Hotel Halloween Bed and Breakfast Package – This package includes a stay in a Studio King Suite, parking and a choice of Continental Breakfast, Full American Breakfast, or a Los Angeles Light Breakfast, served in Knoll – Le Parc's award-winning restaurant, delivered to the suite or served poolside. Rates start at $299.00 per night plus tax (two night minimum). To book the package, guests should visit the website: leparcsuites.com, click on "reservations" and enter the code HALLOWEEN in the Promotions Box.
London West Hollywood – With a great location right up San Vicente from the Carnival, The London West Hollywood is a great place to stay for Halloween. Rates start at just $299 that weekend, book online at thelondonwesthollywood.com. On Saturday & Sunday, October 30 & 31, Boxwood café is offering a "Halloween Brunch" with items like Monster Hash, Jack's Pumpkin Hotcakes, and Camp Crystal Lake Granola French Toast. Plus for the remainder of October, the London Bar is offering a "London After Dark" menu with themed cocktails and bites.
About The West Hollywood Marketing & Visitors Bureau
Located at the foot of the Hollywood Hills in the heart of Los Angeles and just 1.9 square miles in size, the city of West Hollywood rivals the world's most exciting travel destinations. Visitors can spend their days shopping in the colorful design district, lounging at a rooftop hotel pool, or visiting one of the area's cultural attractions. And when the sun goes down, West Hollywood really heats up with world-class dining experiences and the legendary nightspots of The Sunset Strip and Santa Monica Blvd. The city's small size and central location make it a friendly, walkable haven for travelers.
The West Hollywood Marketing & Visitors Bureau is a 501(c) non-profit organization dedicated to marketing the City of West Hollywood as a "living forward" visitor destination to business and leisure travelers by promoting awareness of the city's unique location, image, businesses and industries and by providing support for the city's economic development efforts. For more information on West Hollywood's cutting edge businesses or to plan the ultimate getaway, please visit http://www.visitwesthollywood.com. For the latest offers and tips on living like a West Hollywood insider, visit http://www.WeHoInsiders.com.
###