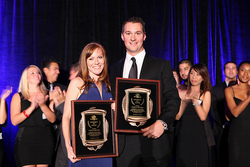 Working with the kids, the Club, and all of the volunteers fuels my passion to make a difference in the lives of those around me. - Jaime Hepp
Los Angeles, CA (PRWEB) October 13, 2010
Team TAG, a California-based sales and marketing firm, announced that President Jaime Hepp and his wife JoAnne Hepp were honored at the Boys and Girls Club of Venice's Fifth Annual Champion of Youth Gala, which was held in Marina de Rey at The Ritz Carlton. President Jaime Hepp received the Corporate Leadership Award, which recognized his commitment to the Boys and Girls Club and Team TAG's ongoing volunteer efforts to the organization. To see the Hepps receiving this recognition, visit the YouTube page that contains the video.
Jaime Hepp serves on the board of directors at the Boys & Girls Club of Venice and has been active in engaging Team TAG and team members in a variety of mentoring and leadership programs at the Club. Jaime received the award alongside UCLA Men's Basketball Coach Ben Howland, who obtained the Champion of Youth Award.
"It's humbling to be getting this award. The reality is that I'm just a spoke on the wheel. The credit really goes to the dozens of selfless volunteers that we've had participating over the years," said Jaime Hepp. "I feel really lucky to be a part of something special. Working with the kids, the Club, and all of the volunteers fuels my passion to make a difference in the lives of those around me."
"We are very excited to have Coach Howland and the Hepps as our honorees," said dinner co-chair Julie Henley of Demand Media. "This event is a great way to support children and teens that need us to help guide them to a productive future."
Past honorees have included Nancy and David Iben, FIDM, Margaret and David Lederer, Joey Baker and Michael E. Wise and Milton I. Swimmer.
Team TAG has participated in a number of Boys and Girls Club events over the past several years, including the serving of Thanksgiving dinner, the San Diego Mud Run, a Six Flags Magic Mountain trip, sailing and kayaking in Marina Del Rey, and many more. Currently, Team TAG is in the process of raising money for Operation Smile, a children's charity treating facial deformities such as cleft lips and cleft palates all around the world.
"I grew up in a community where I didn't see poverty. Living in Los Angeles has made me more compassionate to those in need because I see them everywhere," said Jaime Hepp. "It's too easy to ignore people and try to focus on our own lives and our own needs. I like to take the time to listen to people in need (from the homeless to the less fortunate). Two things happen: my purpose to serve others grows (compassion) and I become more thankful for the blessings in my life (gratitude)."
Follow Team TAG on Facebook and Twitter.
About Team TAG
Team TAG specializes in customer retention and acquisition for Fortune 100 companies, who use Team TAG to sell products and services to their customers. For more information, log on to http://www.resultsbiz.com or call 310-670-6500.
About the Boys and Girls Club of Venice
The mission of the Boys and Girls Club of Venice is to inspire and enable all young people, especially those who need us most, to realize their full potential as productive, responsible and caring citizens. With an annual membership of 4,100, the club serves more than 500 youth each day, ages 6-17, and is open 50 weeks a year, five days a week during the school year, and offers a ten week camp during the summer. For more information, contact Aileen Martinez at (310) 574-5053 or log on to http://www.bgcv.org/.
###