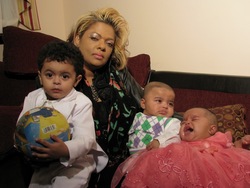 I believe in giving back and sharing
South Richmond Hill, NY (PRWEB) October 25, 2010
After knocking on many doors, a Guyanese immigrant who has been struggling to retain control of her multi-million dollar business in the United States, finally had her story documented in The Black Star News, a New York city investigative newspaper, giving her much hope.
Meanwhile, she wants the world to know that people who give back are always rewarded. Christine Persaud launched Caring Home Care in 1997 in Queens County, New York City. Annual revenue reached $9 million, and Persaud employed dozens of people from the community. Persaud then launched Christina Home Care food pantry, feeding dozens of family every Friday, in the community, as her way of giving back to the community. "I believe in giving back and sharing," Persaud says. "When you share your blessing with people, God will always give you more blessings."
Persaud was also blessed to have three beautiful children. She has a three year old, and she has twins who are about a year old. She is a single-parent to her children but still had the energy to build her businesses, Caring Home Care and Liberty Home Care. Her businesses trains home healthcare practitioners and nurses aides, and places them at institutions and homes to take care of the elderly or people who are sick or recovering from surgery and can't take their medication without assistance. "I have always liked helping people, so this business came naturally to me."
Persaud then began dealing with a money lender who financed her payroll; she met him by placing an advertisement in The New York Post in 2007. Her businesses was growing so rapidly that she needed to expand her staff quickly. However, her contractors for the services she provided would take several weeks before paying her. In the meantime, she had to meet her payroll every two weeks.
There came a time in 2008 when a dispute emerged between Persaud and the money lender. The money lender took Persaud to "arbitration" (8007/09, State Supreme Court of New York, County of Kings). The money lender then claimed he was the rightful owner of the businesses started by Persaud.
Persaud eventually got a New York City-based investigative newspaper, The Black Star News, to cover her ordeal. After reporting on the case and reading documentation, The Black Star News published an article under the headline "DA Investigates Claims $40 Million Business 'Stolen' With Forged Contracts," on May 13, 2010.
http://www.blackstarnews.com/news/124/ARTICLE/6533/2010-05-13.html
According to The Black Star article: "Following inquiries by The Black Star News, the District Attorney in Queens County has confirmed that his office is investigating allegations by a Guyanese immigrant that forged signatures on contracts she never signed were used to wrest control of her multi-million dollar businesses by a money lender who was at one time a prospective partner."
"The immigrant, Christine Persaud, who's in her 40s, says she never signed partnership agreements with the prospective partner because of several clauses she didn't like in the proposed agreement, including one in which the money lender wanted future disputes to be arbitrated before an individual who had done some work for him in the past," the newspaper, whose publisher Milton Allimadi has in the past appeared on CNN to discuss some of his stories, reported.
The Black Star also quoted Helen Peterson, a spokesperson at Queen's County, New York, District Attorney Richard Brown's Office saying: "There is an ongoing investigation into the Christine Persaud case. But it would be inappropriate to comment at this time."
The Black Star News's publisher Allimadi also wrote a letter to the Commissioner of the New York State Department of Health (DOH) Richard F. Daines, whose entity governs the home care business and in a follow up article on June 4, 2010, The Black Star News quoted Daines' spokesperson, Claudia Hutton, responding: "On advice of counsel because there are law enforcement agencies investigating this instance, I must decline further comment. You can trust that the results of the investigation will be made public."
http://www.blackstarnews.com/news/135/ARTICLE/6594/2010-06-04.html
"I know that the investigation by the District Attorney Brown and by the Health Commissioner Daines will restore full control of my businesses to me," Persaud explains. "I just want to continue building my business, taking care of my children, and feeding the hungry every Friday," she adds.
Meanwhile, as she awaits the outcome of the investigations, every Friday, Persaud continues to share free groceries and supplies to the dozens of families in the Richmond Hill, Queens, New York, area where she operates her business.
"Every Friday, I gave out over 400 needy people a bag of grocery to last a family for three days," she adds. "By the blessing of God I am still doing it, I was so worried and scared that I would be forced to close my food pantry."
To find out more about Persaud please send an e-mail message to christinenyfl(at)aol(dot)com or please see:
http://www.blackstarnews.com/news/124/ARTICLE/6533/2010-05-13.html
http://www.blackstarnews.com/news/135/ARTICLE/6594/2010-06-04.html
# # #