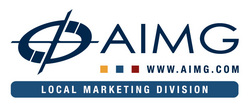 Local marketing has different requirements from national and global campaigns
Charlotte, N.C. (Vocus) October 14, 2010
Global marketing and web development firm AIMG, headquartered in Charlotte, NC, has recently established a Local Marketing Division to serve the needs of medium and small business clients branding and marketing to a local audience in the specific areas they serve.
"Local marketing has different requirements from national and global campaigns," notes AIMG President and Founder Joe DeMicco. "After almost 20 years working with many start-ups and local small businesses, we developed successful strategies and acquired a great number of valuable online resources relevant to local marketing, branding and advertising. In an effort to bring these resources and strategies to more companies with the same needs, we established a division with a local marketing focus."
The new division works closely with clients to identify the specific online opportunities that make sense for them, providing recommendations that include both free and paid opportunities. Additionally, any roadblocks or concerns clients have already come up against are uncovered and a course of action established.
AIMG offers clients a number of helpful services including 'listing claiming and submission' to both free and paid online local listing websites. "Many businesses are unaware," points out DeMicco, "that hundreds of online directories, search engines, and contact database providers may be publishing outdated or inaccurate business and contact information for their company on the web. To give you an example, one of our 'brick and mortar' clients sells windows, screens, and window treatments. He also donates money to charities. The local online listing services, which probably all get their information from a contact database service provider, each list and describe the client's business as a 'charitable foundation.' This is just one example of many, and things like this can greatly impact a small business' online results. Our local marketing specialists know what to look for, where to look, and what to do to get the client better online results."
Among the other services offered, all with a local focus geo-targeting specific cities, counties and regions are: search engine optimization, social media, blogs, website design, reputation management, and pay per click management. Clients can also take advantage of Web Analytics and Reporting services that provide them with quantitative results and actionable data. Interested companies can visit AIMG Local Marketing Division online or call (704) 321-1234.
About AIMG | Accurate Imaging
AIMG | Accurate Imaging is a full service global marketing and web development agency, headquartered in Charlotte, NC, that serves clients in the United States, Canada, Europe and Australia. It offers website design, search engine optimization, custom application development, consulting for business, publicity and marketing, and design and management services for multi-channel initiatives including online, print, commercial video production, and broadcast radio and television. AIMG's divisions include NOA Marketing Division specializing in the needs of non-profits, organizations and associations, and the recently established Local Marketing Division serving medium and small business 'brick and mortar' and service providers targeting cities, counties, and regions. Visit http://www.aimg.com or call (704) 321-1234.
About Joe DeMicco
Joe DeMicco has been an online and marketing consultant for almost 20 years. He started his flagship company AIMG | Accurate Imaging in 1994. He has worked as a consultant and produced content for companies like BMW, Discovery Communications, Publicis, Thomas Register (ThomasNet), Net2Phone, Robotic Industries Association, Automated Imaging Association, Hose-McCann Communications, and Excite Media Group. In 2007 he established Industrial Web Solutions, which specializes in online and offline solutions for industrial manufacturers. His blog DeMicco.com offers business development tips.
###