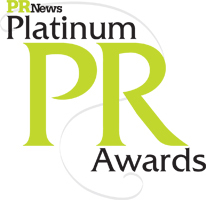 "When it comes to successful communications campaigns, size does not matter - results are a testament to high caliber service and dedication," says RED PR President, Julia Labaton
New York, NY (PRWEB) October 14, 2010
Competing against industry giants, RED PR, a boutique lifestyle PR firm based in New York City, received an honorable mention from the PR News 2010 PR Platinum Awards for the outstanding product launch of CND's Shellac polish-gel hybrid nail color. The Best Product Launch category competition included communications firms Ogilvy and Porter Novelli, and Fortune 500 company, Time Warner Corporation. Red's global campaign caused Shellac to sell out 14 times over sales projections and doubled CND's overall revenue. At the time of the entry, Shellac had received 89 media mentions. To date, multimedia results have expanded exponentially to over 640 multimedia placements in North America alone.
RED PR was recognized at the PR Platinum Awards luncheon attended by over 400 PR professionals at the Grand Hyatt in New York City on October 5 and in the PR News online magazine.
"When it comes to successful communications campaigns, size does not matter – results are a testament to high caliber service and dedication," says RED PR President, Julia Labaton. "We're proud to compete in the same arena as these large scale PR power players."
The annual awards, which celebrate the most outstanding communications initiatives, comprise categories including media relations, branding, crisis management, green PR and social media.
RED PR is a full service boutique communications firm specializing in the beauty, fashion and lifestyle brands. It was founded by Julia Labaton and is celebrating its 10th anniversary. Services include marketing communications, media relations and event production. Clients range from entrepreneurial start-ups to global industry leaders. The agency is a member of Public Relations Boutiques International, http://www.prboutiques.com.
# # #