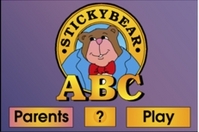 Hilton Head Island, SC (PRWEB) October 13, 2010
Stickybear educational programs have been used by tens of thousands of teachers and parents and enjoyed by millions of students for more than thirty years. Stickybear, an education icon, has helped children learn reading, language arts, math and science. Today, Optimum Resource announces the release of its new App for the iPhone, "Stickybear ABC."
This continually updated, award-winning program has been teaching children their letters, in English and Spanish, for more than twenty years. It is designed to provide children, ages three and up, with basic alphabet skills that will last a lifetime.
Children can simply start playing Stickybear ABC immediately by pressing PLAY from the Main Menu. They are in the free play mode and will see a keyboard with the letters A through Z displayed in both upper and lower case. Children then press any letter and a letter and word panel appears, followed by an animation.
We present more than one word for most letters and youngsters enjoy pressing the letters to find their favorites. This helps them to learn the letters by the discovery method.
Additional tiles at the bottom of the keyboard screen let users switch easily between English and Spanish, which provides letter practice for children learning either language. They may also return to the Main Menu, switch to the structured mode or repeat the last letter.
The Star key toggles between the free play and structured modes of play. In the structured mode, Stickybear appears at the bottom of the screen and asks the child to press a particular letter. Children learn by prompted direction in this activity. Pressing the requested letter produces an animation. The program is self correcting, if an incorrect letter is pressed, Stickybear highlights the correct letter and moves along to the next choice.
The megaphone key is the repeat key in both modes. In free play, children love to repeat favorites and we have seen them press camel, motorcycle and giraffe again and again. In the structured mode, the Megaphone key serves to repeat Stickybear asking for a letter. This is useful if the child has been distracted or just missed the letter called for.
All children move at their own pace and should be encouraged to play Stickybear ABC in any way that pleases them. Over the years this program, and its methodology, have proven immensely successful in capturing the interest of young learners for substantial periods of time and in helping to build early code breaking and recognition of the letters of the alphabet. Many schools have also used Stickybear ABC and its self-paced flow for remediation and in ESL classes where the ability to switch fluidly between languages is very useful. Click for more information about our iPhone apps. High res screen shots are available. Please visit our Stickybear web site.
Here are a few of the awards won by the computer versions of Stickybear ABC:
Parents' Choice Award: Gold Seal, Parents' Choice Magazine
Software's Greatest Hits, Booklist, American Library Association
Excellence in Software Award for Best Early Education Program, Software Publishers Association
Media & Methods Awards, Media & Methods Magazine
Evanston Educators' Award for Excellence, Evanston Educators' Newsletter
Best Software: Education, Readers' Choice, A+ Magazine
Optimum Resource was founded in 1980 by author, illustrator Richard Hefter, who created the Stickybear character. For more than thirty years, the company has produced award-winning educational computer programs, many of which have become industry classics. This program is the newest in a series being developed for the mobile environment and is available to all at $0.99 cents per install.
If you are unable to utilize the links above, you may paste these in to your browser to visit the sites. For the iTunes Stickybear ABC page, use: http://itunes.apple.com/us/app/stickybear-abc/id394139300?mt=8
For our Stickybear iPhone page use: http://web.me.com/richefter/iPhone_Apps
For our Optimum Resource Web Site use: http://www.stickybear.com
###