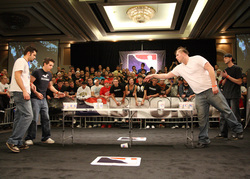 Whether you're an avid beer pong player or just started playing this fun and exciting sport, the WSOBP is a not-to-miss event
Las Vegas, NV (PRWEB) October 13, 2010
Sign-ups are underway for the sixth annual World Series of Beer PongTM (WSOBP), the largest, longest-running beer pong tournament in the world. This year's competition will take place Jan. 1-5, 2011 at The Flamingo Hotel and Casino in Las Vegas, and offer participating teams a shot at the $50,000 Grand Prize. Early bird sign-ups offer discounted registration pricing through Oct. 31, 2010.
"Whether you're an avid beer pong player or just started playing this fun and exciting sport, the WSOBP is a not-to-miss event," said WSOBP co-founder Billy Gaines. "There is already so much excitement in Las Vegas with the kickoff of the New Year; when you throw in a chance at $50,000 in beer pong winnings on top of that, the excitement, camaraderie and competition is truly indescribable."
Last year's WSOBP event drew over 900 participants from 45 U.S. states, five Canadian provinces, and six countries. The 2011 tournament is expected to attract a range of teams from Las Vegas locals to as far away as Ireland and Guam to take on two-year beer pong defending champion team "Smashing Time." Each team will be guaranteed 12 games over two days. Approximately 1/3 of the field will then move on to compete in the finals on the third day. In an effort to even the playing field and give novices the best possible chance for a shot at the prize money, this year's tournament will feature a double-elimination round, and total payouts of at least $65,000 guaranteed.
Players interested in registering for the WSOBP VI must do so online at http://www.bpong.com before the Dec. 10, 2010 deadline. Player packages start at $450. All packages are priced per person and include a four-night hotel stay and entrance into the WSOBP VI. Players are encouraged to register by October 31 since the package prices increase by $50 starting at midnight on Nov. 1, 2010.
The game of beer pong is simple. Two teams stand at opposite ends on an 8-foot-long table, where ten 16-ounce cups, filled with roughly 2 ounces of beer or another liquid, are placed in a bowling-pin formation. Each team takes turns tossing beer pong balls (similar to table tennis balls) at their opponent's cup formation. If a ball goes into a cup, the cup is removed from the game. The first team to eliminate all of its opponent's cups wins. At the WSOBP sporting event, four of the ten cups in the formation are filled with water to minimize alcohol consumption.
The WSOBP is the largest organized beer pong tournament in the nation, created by BPONG.com. The company and its website is the center of the beer pong universe, providing a center for collaboration and discussion about the game of beer pong. For more information, visit http://www.bpong.com. Follow BPONG.com and the WSOBP on twitter at http://www.twitter.com/BPONGNation and facebook at http://www.facebook.com/BPONGNation.
###