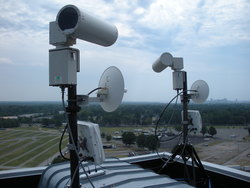 "We are pleased that NSM Surveillance participate in this important sporting event to ensure the security of the spectators and NASCAR participants...
Spring Valley, CA (PRWEB) October 14, 2010
NSM Surveillance (formerly NS Microwave of San Diego, CA) an integrator and supplier of advanced portable, concealed and covert surveillance solutions for the federal and state and local homeland security markets, today announced that it has successfully participated with the Henrico County Police to provide security for the September 11th NASCAR race at the Richmond International Raceway, in Richmond Virginia.
NSM Surveillance provided its "Bufferzone & Event Security System (BESS)" to the Henrico County Police Department to assist the securing of the over 100,000 spectators who attended the nationally televised NASCAR event. NSM Surveillance's Buffer Zone & Special Event Systems are transportable and integrated systems that combine best in class surveillance systems, including long range cameras, explosive trace detection technologies, crowd management/evacuation management systems and long range acoustic devices to provide for a comprehensive approach to special event security.
"We are pleased that NSM Surveillance was selected to participate in this important sporting event to ensure the security of the spectators and the NASCAR participants, particularly during a time of increased concern about terrorism in the US and worldwide. NSM Surveillance prides itself on working closely with its law enforcement partners to provide comprehensive, effective, and scalable solutions for a wide variety of security environments", said Andy Berdy, President, NSM Surveillance.
NSM Surveillance has worked with state and local jurisdictions on providing comprehensive surveillance solutions for special events and buffer zone protection requirements for over 20 years with projects such as the Super Bowl XLII in 2008 at Glendale, AZ, the Baltimore, MD Inner Harbor and other federal, state and local clients. NSM Surveillance specializes in providing transportable surveillance systems with Wi-Fi, microwave, mobile phone, or Ethernet connectivity for backhauling to command centers or remote command posts to provide maximum coverage and flexibility for the end users ranging from special events to providing security at remote border locations nationwide.
"Having NSM Surveillance as part of our security team was a tremendous force multiplier for us" said Capt. Humberto Cardounel, Henrico County Police, "their surveillance solutions were completely adaptable and flexible to meet our needs as our planning evolved in preparation for the event. Their support during the event significantly contributed to the successful outcome".
About NSM Surveillance TM
NSM Surveillance develops surveillance products and systems for the defense, homeland security, justice and law enforcement markets. NSM Surveillance has a proven track record in supplying sophisticated answers to many complex security challenges. The company was founded in 1986 and has been based in the San Diego, CA region since its inception. For additional information, please visit http://www.nsmsurveillance.com.
Contact: Tony Di Fede
Phone: (619) 670-0616 ext 106
Fax: (619) 670-7040
tdifede(at)nsmsurveillance(dot)com
###