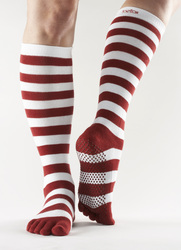 Carlsbad, CA (Vocus) October 13, 2010
ToeSox attended Inner IDEA's 5-year anniversary conference in Palm Springs, California September 23-26, 2010. The educational conference focuses on integrative wellness which ToeSox supports through its line of toe socks with patented non-slip grip sole. As passersby visited the ToeSox table, a sign signaled the future for ToeSox with a "Coming Soon" message. The three products listed were well-received among conference attendees who were first to know about the designs. Coming soon to ToeSox: Holiday ToeSox, Gloves by ToeSox, and ULTRA Sport ToeSox™.
In 2009, ToeSox introduced their first Special Edition Holiday ToeSox which featured red and white candy cane striped full-toe ToeSox with Grip. A highly sought after gift, the toe socks sold out in less than one month after they arrived. This year ToeSox expands their Holiday line to include three styles (full-toe, half-toe, and knee-high) and two color choices (red and white stripe, and blue and white stripe).
Where ToeSox with Grip keep the feet in place, the hands are left unattended. To answer the call of slipping hands, ToeSox brings their half-finger gloves to the market in November. The gloves feature an anti-slip grip and a terry sweat strip, and come in three sizes (small, medium and large) with adjustable wrist band for optimal fit.
ULTRA Sport ToeSox™ and packaging were available to be seen and touched by the conference's fitness industry professionals. Made with moisture wicking Cocona® natural technology, the ULTRA Sport™ will provide wearers a blister-free experience when running, walking or hiking. ULTRA Sport™ come in two lengths (ankle low and crew) and three colors (Brindle Black, Brindle Pink and White).
In time for the holiday gift-giving season, ToeSox premieres the three products to their wholesale and retail client base November 2010.
ToeSox, Inc. was founded in 2004 with the launch of its patented Non-Slip Grip sole, and has since grown from a home-based business to selling various styles nationwide and to 32 countries. Visit ToeSox at http://www.toesox.com or call (877)486-3769.
###