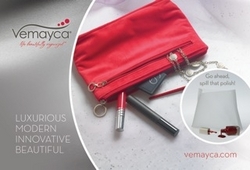 I'm honored to be ranked number 67 in this competition. Being a mom and an entrepreneur is a challenging endeavor but definitely very rewarding. I hope this award inspires other women to take the leap
Bellevue, WA (PRWEB) October 13, 2010
Vemayca, a woman-owned cosmetic bag company has been ranked number 67 in StartupNation.com's 2010 Leading Moms in Business competition, sponsored by Infusionsoft.
Over 709,000 votes were cast in support of the 2010 contestants, reflecting immense interest and support for moms building businesses at the same time they're tending to their families. Started by a hardworking mother and former airline executive, Vemayca received the prestigious number 67 rank out of thousands of contestants.
"There's been a change among moms as they've come to realize that adding entrepreneurship to their lives brings exhilaration and immense gratification, not to mention supplemental—sometimes primary—income to their families in these dicey economic times," says Rich Sloan, chief startupologist and co-founder of StartupNation.
"I'm honored to be ranked number 67 in this competition. Being a mom and an entrepreneur is a challenging endeavor but definitely very rewarding. I hope this award inspires other women to take the leap," says Veronica Mayo, founder of Vemayca.
See the full results of the 2010 Leading Moms in Business Ranking here: http://www.startupnation.com/leading-moms-in-business.
About Leading Moms in Business:
The 2010 Leading Moms in Business ranking, conducted in collaboration with Ladies Who Launch (http://www.ladieswholaunch.com) and The National Association for Moms in Business (http://www.mibn.org), highlights some of the dominant trends, motivations, and attributes among moms in business.
About Vemayca:
It all started when Veronica Mayo, a former airline executive almost missed a flight because she was struggling to clean her caked-in-makeup cosmetic bag. Chic and soft on the outside with a replaceable (and recyclable) Soft Pearl Liner inside, Vemayca cosmetic bags are now helping women everywhere get to their flights on time and beautifully organized.
###