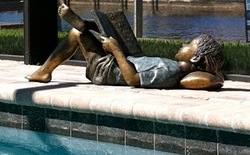 Cape Coral, FL (Vocus) October 13, 2010
Direct-to-buyer Internet real estate searches are now reality with the recent launch of http://www.MickeysFloridaHouse.com by Zen Real Estate of Southwest Florida. Buyers from around the world can now view listings, videos, maps and pictures plus schedule tours of properties and chat with broker and real estate entrepreneur Robin Speronis instantly from a property website. Sellers of real estate in Southwest Florida can now market their homes directly to buyers around the world using new Internet PR portals, cutting-edge technology and the latest tools for instant messaging and Internet activity tracking.
"The key here with MickeysFloridaHouse.com is to enable buyers to discover more about the places and the property that they want from anywhere around the world before they get to the actual physical property without the hassle of registering with a real estate agent," commented broker Robin Speronis.
Mickey's Florida House is a 3 bedroom, 2-bath pool home located in Cape Coral, Florida on a Gulf of Mexico access canal. It features an open floor plan opening to a view of the oversized pool, wraparound dock with captain's walk and the Gulf access canal. To view videos and information on this home, gain access to a private tour and chat with broker Robin Speronis visit http://www.MickeysFloridaHouse.com.
For more information about Zen Real Estate please visit http://www.AskZenRealEstate.com.
###