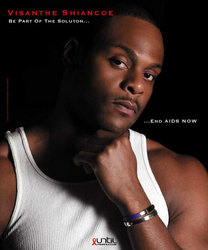 I prefer to photograph children being free...being organic. Whenever I can, I chase the sun. I am a self proclaimed
Washington, DC (PRWEB) October 13, 2010
Childrens photographer, JaTawny Muckelvene Chatmon photographs adult celebrities for a great cause!
While JaTawny's passion normally lies with photographing footloose, free spirited children for campaigns, catalogs and advertising, she is also passionate about lending her lens to foundations working to make a difference. This August, JaTawny was given the unique opportunity to photograph Visanthe Shiancoe; Tight End for the Minnesotta Vikings, and Calvin Pace; Linebacker for the NY Jets, for Until There's a Cure Foundation.
The images taken of each celebrity are soft, yet powerful. Images depict celebrities in front of a classic black or white backdrop wearing "The Bracelet."
Until There's A Cure® Foundation is a nonprofit organization that raises funds and awareness about HIV/AIDS through sale of "The Bracelet".
JaTawny Muckelvene Chatmon specializes in photographing children. Her photographs are crisp, lively and posses a quality that goes way beyond two dimensions. In describing her style of shooting, she says, "I prefer to photograph children being free...being organic. Whenever I can, I chase the sun. I am a self proclaimed "sun stalker" , I chase the sun striving to capture it in my shots. For someone that has never had an interest in Nature photography, I feel I am most inspired by the raw beauty of mother earth. The textures, the coloring, coupled with the natural and free beauty of children is a match made in heaven. A small piece of heaven I am given the chance to experience while on earth."
Her recent clients include, Enchanted Enfant, Gossip Girl Swim, Hula Star, Knuckleheads Clothing, Blirt Shirt, Lili Putians, Kaiya Eve Couture, Lunchbox Magazine, Beetlejuice London, Hula Mula, National Education Association, YMCA, National Center for Missing and Exploited Kids, Until There's a Cure Foundation & more.
For further information about UTAC, please see http://www.UTAC.org
For further information about JaTawny Muckelvene Chatmon, please see http://www.jatawnymchatmon.com
###