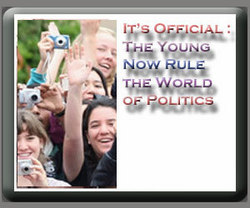 Kennedy ... has spelled out the significance of student journalism's role
New York, NY (PRWEB) October 15, 2010
A world-changing website that has always been updated on perfectly chosen dates has been updated today to explain a newly established reality. As mass media gradually became a global affair, America's significance shrank to match the true size of the U.S. population in comparison to the world's total population. Naturally that meant that foreigners gained control of the vast majority of media powerhouses. The century-long streak of American world leadership in matters of politics and culture was consequently put into jeopardy of ending as a result of being stripped of its imposing podium. Now required to endure by relying solely on its merits, American leadership thirsts for an unbiased media source, and student journalism emerges as the only haven of pure objectivity.
The preeminent next-generation political leader, Rockefeller Aldrich-Kennedy Popton, has spelled out the significance of student journalism's role and explicitly delineates the way forward for American world leadership in no uncertain terms at a website that has been relentlessly refined over the course of the last five years. A visit to the site shows how powerful a well honed message can be. It even includes original songs hosted at http://www.youtube.com and highly contextual images. Become informed about the vision at http://theperfectmomentneverends.com and learn more about student journalism with this citation from http://www.wikipedia.com:
"The National Pacemaker Awards are awards for excellence in American student journalism, given annually since 1927. The awards are generally considered to be the highest national honors in their field, and are unofficially known as the 'Pulitzer Prizes of student journalism.'
"The National Scholastic Press Association administers the contest for high school programs, while the Associated Collegiate Press administers the college and university contests. Pacemakers are awarded annually at the JEA/NSPA National Conference (for high schools) and the ACP/CMA National College Media Convention (for colleges) in the following categories: Newspaper, Online, Yearbook/Magazine, and Broadcast."
# # #