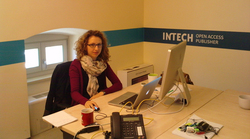 "Our robotics publications have become an important resource for scientists in this field, and our authors include leading lights in the world of robotics such as Hiroshi Ishiguro and Toshio Fukuda," says Kordic.
Rijeka, Croatia (PRWEB) October 14, 2010
In a world where the internet has increasing global reach, Open Access publishing, a model operating on the principle that published works are free of charge to download, print and use for anybody, anywhere in the world, has the potential to change a lot about the way that people access and distribute knowledge. This has especially far-reaching implications in science, technology and medicine since researchers will be able to share their findings with colleagues all around the world regardless of their ability to pay for scholarly literature and travel costs.
Open Access publishing is winning the support of an increasing number of research organizations. Many institutions are signing up to initiatives such as the Compact for Open-Access Publishing Equity (COPE), in which they commit funds to ensure research findings will be accessible to the public free of charge on the internet. Signatories to COPE include leading research organizations such as Harvard University, Duke University and Massachusetts Institute of Technology.
At a time when libraries are faced with ever-tighter budgets and the price of academic and scientific journals has been steadily on the rise, the Open Access model looks likely to experience rapid growth. It is expected to especially benefit institutions in developing countries, allowing their scientists both to access to cutting-edge research and share their own findings with their colleagues worldwide without the restrictions imposed by price barriers.
The OECD and European Union are among the supranational bodies that have recognized that enabling open access to the results of publicly-funded research not only aids transparency but also supports the quality and efficiency of the global science system.
While there is a lack of reliable up-to-date information on the rate of growth in the number of scientific articles available for free on the internet, a report published by the EU's High Level Expert Group on Scientific Data1 describes the amount of academic information available online as "a rising tide of information, sweeping across our professions, our families, our globe." The Group calls on governments across the globe to work together to ensure that this data is exploited ethically and effectively for the benefit of humankind.
A new website launched this week, InTechOpen.com, enables anyone with internet access to download, free of charge, more than 200 books and a number of journals in areas ranging from medical robotics to e-learning. InTech, founded in 2004 by Aleksandar Lazinica and Vedran Kordic, both researchers at the Vienna University of Technology, initially published books and journals targeted at the robotics community, since this was their own central area of interest.
"Our robotics publications have become an important resource for scientists in this field, and our authors include leading lights in the world of robotics such as Hiroshi Ishiguro and Toshio Fukuda," says Kordic. "However, researchers started asking us to consider publications in other areas. Now our catalogue includes titles in environmental science, biomedical engineering, computer vision and many more. InTech's books on Face and Speech Recognition are used by one of the world's leading security and intelligence agencies as part of its training program, and we are particularly proud of the special issue of our "International Journal of Advanced Robotic Systems", in which NASA's scientists showcased their achievements regarding the Mars Exploration Rover mission."
InTech's catalogue of free books and journals is growing at a rapid rate, as is the number of downloads, which in 2009 reached more than one million per year. To download any of InTech's publications, please visit http://www.intechopen.com.
ABOUT INTECH
InTech is an Open Access publisher of journals and books covering the fields of Science, Technology and Medicine. InTechOpen is an Open Access reading platform for InTech publications, a space where all users can read, share and download more than 200 books and 8,000 book chapters. All content at InTechOpen is distributed under the Open Access label and under the Creative Commons license - freely accessible to anyone, anywhere in the world.
# # #