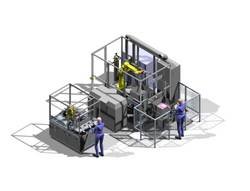 (PRWeb UK) October 13, 2010
Industrial automation specialist, Orwin, has integrated a JK™ laser into a twin station laser welding system, which has been designed to assemble and weld elements within a multi-cell battery.
Following extensive trials at JK™ Lasers' applications laboratories in Rugby, Orwin designed and manufactured two welding stations that utilise the laser's time share facility. This feature can speed up manufacturing processes and reduce costs, as it enables two welding operations to be carried out on two separate cells from a single laser source.
In this application the first station automated the laser welding of manually loaded inter-cell connectors, joining the negative and positive poles of adjacent cells. The second station automated the laser welding of the lids of individual cells whilst under a vacuum.
Whilst the project had its complexities, Orwin and JK™ Lasers were able to overcome them to supply a system that not only met but exceeded the customer's expectations.
###