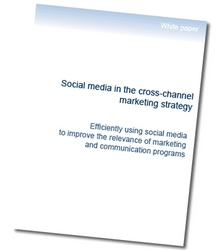 Reflecting their diversity, social media offer numerous advantages for developing a business.
(PRWEB) October 13, 2010
Selligent, international vendor of conversion marketing and interactive CRM solutions, has published a new white paper entitled Social media in the cross-channel marketing strategy. This white paper, a full-fledged roadmap for getting started in the social media sphere, highlights the main possibilities that social media open to marketing specialists, and how social media can improve communications efforts and lead to revenue and customer loyalty.
Social media have brought significant changes upon the habits and behavior of people and companies. Consumers are becoming increasingly powerful. They search for information, they share and express their opinions through social media, both at home and at work. The white paper examines these main changes and provides a practical answer to each new challenge.
Reflecting their diversity, social media offer numerous advantages for developing a business, notably by improving the public's knowledge of a company's reputation, markets, and competition. They can also attract prospects through word-of-mouth and social interaction.
The main question is how this all fits in a cross-channel data-driven and integrated marketing approach.
The white paper sheds light on the various ways to leverage the real power of social media combined with other communication channels and tactics, in a holistic and personalized interactive CRM and communication strategy.
The white paper provides ideas and tips for creating a clear and pertinent social media strategy. Managing social media has become a crucial element in the pre-sales, customer service, and customer acquisition processes. Today's marketing specialists cannot get by without it.
To download the white paper, click here.
About Selligent
Selligent is a specialist in Conversion Marketing and Interactive CRM solutions. It offers customer interactions solutions that enable organizations to engage with customers as individuals resulting in increased conversion rates, higher profitability, minimal churn and a superior customer experience over all channels. The company offers a unique approach combining agility, pragmatism, and implication to ensure the success of projects enabling the management of personalized relationships and interactions.
Selligent provides solutions to over 700 customers in industry sectors like financial services, telecommunication, travel, media & publishing, retail, automotive, healthcare, manufacturing,…
Selligent has over 115 employees and has recorded in 2009 a turnover of 18.6 million Euros.
Selligent's head-office is based in Belgium.
Today the company has offices in Belgium, The Netherlands, France, Poland, Germany, Italy and Spain and covers most European countries via a network of franchises, as well as distribution and integration partners.
Contact Selligent:

Patricia Duponcheel
Marketing Co-ordinator
Tel. : +32 (0)71 25 80 97
Also download Selligent's white paper on avoiding marketing fatigue.
###