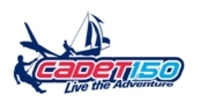 (PRWeb UK) October 14, 2010
Almost 200 cadets from every corner of the UK will gather at the Royal Military Academy Sandhurst this weekend (16-17 October) to compete in a unique Festival of First Aid, organised as part of Cadet150, this year's 150th anniversary of the cadet movement.
Involving teenagers from all four cadet forces – the Army Cadet Force, Combined Cadet Force, Air Training Corps and Sea Cadet Corps – Saturday's competition will involve both team and individual tests. A total of 48 teams will be taking part, making this the largest ever cadet force first aid competition. Some 16 testing stands will be staffed by 50 adult volunteers, with a further 48 volunteers acting as stewards and 32 made up to play casualties. Prizes will be presented by the Director General Army Medical Services, Major General Mike von Bertele OBE QHS.
Ten of the highest scoring cadet force teams will return to RMAS Sandhurst on Sunday morning to compete against teams from other organisations such as British Red Cross, Royal Mail Group and Police Cadets in the prestigious Young Grand Prior competition, organised annually by St John Ambulance for young first aiders aged 12-25. This competition is being held at Sandhurst for the first time in its history as part of Cadet150.
Cadet150 is a year of celebrations marking the 150th anniversary of the UK's cadet movement and has involved hundreds of events all over the country throughout 2010, all designed to promote the movement and encourage people of all ages to get involved. Her Majesty The Queen is Patron.
With origins dating back to 1860, the cadet movement is one of the oldest and most successful voluntary youth organisations in the world. A force to be reckoned with, today it numbers 131,000 young people led by 25,000 adult volunteers in well over 3,000 sites across the country.
The year of celebrations launched on February 17 when 26 cadet ambassadors had an audience at Buckingham Palace with HM The Queen, Patron of Cadet150, and His Royal Highness The Duke of Edinburgh, Colonel in Chief of the Army Cadet Force.
The main commemorative event for Cadet150 took place on 6 July when almost 2,000 cadets paraded down the Mall before His Royal Highness The Prince of Wales, then joined friends, family and VIP guests in the grounds of Buckingham Palace for a garden party.
All three Armed Forces have helped the cadet movement celebrate its 150th anniversary. As well as the Festival of First Aid at RMAS Sandhurst, Britannia Royal Naval College Dartmouth hosted a special Cadet150 residential camp for 150 cadets working towards their Gold Duke of Edinburgh's Award and a Cadet150 sports competition took place at RAF Cranwell.
Cadet150 expeditions have taken place to locations as diverse as Lesotho, the Himalayas, Nigeria, the Italian Dolomites, Peru, the USA and Kenya. Cadets are also planting 150,000 trees all over the country in partnership with the Woodland Trust.
The Cadet150 anniversary year will conclude with formal tributes during Remembrance weekend in November.
For more information on Cadet 150 celebrations and voluntary work opportunities please visit the Army Cadets website.
###