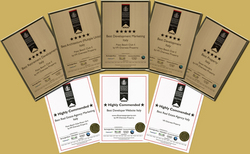 We believe commitment and a continuous effort to offer property buyers nothing but the best is what matters, whether it is in the quality of our properties or our comprehensive and personalized services.
Calabria, Italy (PRWEB) October 15, 2010
Leading Italian property developer and agent VFI Overseas Property (http://www.vfioverseasproperty.com) have been declared winners in 8 categories at the Europe & Africa Property Awards 2010. VFI is proud to have been selected as winners in the most number of categories at this year's awards programme, which has reportedly received the most number of nominations from a record number of countries. The company will be one of the select few companies vying to be recognized as the Best in the World at the UK/Americas/International Property Awards Event to be held at London Royal Lancaster on November 27, 2010. This follows the company's selection as the Regional Winner in the Best Retirement Development category at the European Property Awards 2010 held in London last month.
During the September event, VFI won an astounding 8 awards, the highest by any single company, including 5-star ratings in 5 categories. The awards were presented at a gala gathering of top real estate professionals from across Europe.
The awards
VFI won awards in the following categories:
Awards with 5-star rating
Best Retirement Development- Pizzo Beach Club II (Regional Winner)
Best Architecture (Multiple Units) – Pizzo Beach Club II
Best Development –Pizzo Beach Club II
Best Property – 7 Wonders- 5 Stars
Best Development Marketing – Pizzo Beach Club II –
Awards with special commedation
Best Real Estate Agency
Best Developer Website
Best Real Estate Agency Marketing – Pizzo Beach Club Phase I and Phase II
7 Wonders awarded Best Property
VFI Overseas Property's 7 Wonders project, comprising seven spacious villas that are at the pinnacle of five-star luxury developments, is selected as "Best Property". Built to exacting standards of architectural and interior design specifications, these five-bedroom, three-bathroom villas overlooking the spectacular bay of Soverato in Calabria embody the peak of luxurious living in the Southern Italian Riviera. The 7 Wonders project, inspired and aptly named after the 7 wonders of the ancient world, is a reflection of the immeasurable expanse of man's aesthetic vision, a salute to excellence and the quest for perfection, and a tribute to our ability to carve out awe-inspiring, timeless wonders. The 7 Wonders were also previously awarded in the 'Best Villa Project" category at the 2010 Russian Home Overseas Awards.
Pizzo Beach Club wins 4 awards- including Regional Winner in Best Retirement Development category- and a nomination for the global awards
The five star beach resort of Pizzo Beach Club in Calabria, located on the scenic shores of the Tyrrhenian Sea in Calabria adds several feathers to the VFI cap with multiple awards. While Pizzo Beach Club II won the award for Best Development (under six storeys) and Best Retirement Development, the complete Pizzo Beach Club development was recognized in the Best Architecture (Multiple Residences) category.
Pizzo Beach Club, which had already won other awards for being the Best 5 star development in Italy as well as the "Most Affordable Project" is great proof that luxury and affordability can easily go hand in hand. This luxurious project still caters to the needs of a diverse audience, that includes retirees looking for a luxury retirement home, to holiday home seekers as well as buyers who want to indulge in the best of luxury with great value for money.
"We are indeed thrilled to have won the most number of awards at this year's Europe & Africa Property Awards," said CEO's Antonio Velardo and Harry Fitzsimons. "We believe commitment and a continuous effort to offer property buyers nothing but the best is what matters, whether it is in the quality of our properties or our comprehensive and personalized services.
The entire VFI team is grateful for the recognition it has received, and we reiterate our commitment to constantly raise the bar when it comes to developing and marketing overseas property."
About the European Property Awards 2010
Organised by the International Property Awards Ltd and sponsored by Bloomberg Television, these awards represent the European & African property industry's most prestigious award programme. The winners, decided by a highly competent jury comprising several top-notch real estate veterans from several countries, were handed the awards at an exclusive gala event in London in September 2010. The International Property Awards is the world's most prestigious competition that seeks to identify the best real estate professionals across the globe.
Winners were chosen by International Property Awards' esteemed panel of judges that included: Ben Wood, industry head property markets of Google UK; Peter Bolton King, group chief executive of the National Federation of Property Professionals; Christopher Hall, president elect of FIABCI; Thijs Stoffer, International Consortium of Real Estate Agents Association (ICREA); Fiona Nixon, chairman of the Australia Institute of Architects, Hendrik Nelde, president of FIABCI Belgium; Helen Shield, editor-in-chief of International Homes Luxury Collection magazine and Sven Johns, CEO of the German Real Estate Association.
About VFI Overseas Property
VFI Overseas Property (http://www.vfioverseasproperty.com) is the largest real estate developer and property agent in southern Italy. Winner of numerous international accolades for its product and service excellence - including the prestigious 2009 Overseas Living Magazine Award for the best 5-star development in Italy and the CNBC 2009 European Residential Property Awards - VFI Overseas Property is acknowledged as one of the most innovative and pro-active organisations in the realm of property development and investment. With a second-to-none reputation for the quality of its luxury property developments and offices in London, Dublin, Moscow, St. Petersburg, Tunis, Sweden, Ukraine and Italy, VFI is noted for its committed and highly personalized service for all investors in their native language. The company prides itself in the end-to-end service that takes a property buyer through the entire buying process including arrangement of mortgages, insurances, legal assistance and superb after-sales support.
# # #