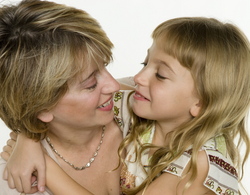 I work really hard to develop real relationships with my customers through email, social media and great customer support. Many of my customers have become close friends - they believe in our business and form a real community
Beaverton, OR (PRWEB) October 15, 2010
From among thousands of contestants, Lisa-Marie Cabrelli (Emily Rose Doll Clothes & Emily Rose @Home) has been ranked #19 in StartupNation.com's 2010 Leading Moms in Business competition, sponsored by Infusionsoft.
Over 709,000 votes were cast in support of the 2010 contestants, reflecting immense interest and supportiveness for moms building businesses at the same time they tend to their families
When Lisa-Marie Cabrelli found out about the Start-Up Nation's Leading Mom's in Business Contest she was 3 months late to the game. Other Mom business owners had been rallying online votes for over 3 months prior to Lisa-Marie entering. With only one month left to collect votes she knew she had to do something drastic. A quick and friendly email to her customer community and a posting on her Facebook Fan Page asking for a "small favor" took her voting needle from zero to "on fire" in less than 48 hours.
"I talk to my customers every day", said Lisa-Marie "they know that I care deeply about creating companies that delight customers... they know I care about them. I am so thankful that I have them all in my life - together we have created this supportive and wonderful community via Facebook, Twitter, our blog and customer service."
In 2006 Lisa-Marie created Emily Rose, an eCommerce store dedicated to providing Moms with unique and affordable alternatives in 18 inch doll clothing and furniture. Thanks to the success of Emily Rose, in 2009 Lisa-Marie was able to fulfill her dream of helping other Moms (just like her) create businesses of their own when she introduced Emily Rose @Home, a home party network for Mom/Daughter entrepreneu r teams. Emily Rose @Home has quickly become popular due to the high quality affordable products, as well as the "no recruiting" policy and single level structure. "We focus on building businesses, not recruiters", said Lisa-Marie.
You can view Lisa-Marie's Leading Mom's In Business Profile as well as the full results of the 2010 Leading Moms in Business on the StartUp Nation Website.
Contact:
Lisa-Marie Cabrelli, CEO
Doll Companies, Inc.
800-615-7048
http://www.dollsclothes-emilyrose.com
http://www.emilyrosehomeparty.com
# # #