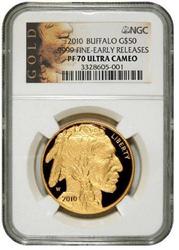 Owning precious metals gives investors the ultimate security, so they don't ever have to worry that what is supposed to be there is really there.
Austin, TX (PRWEB) October 18, 2010
The surging precious metals market and continued concern over the struggling world economy are pushing more investors to allocate a portion of their assets into precious metals. Many investors though, even those who are convinced that it's the right thing to do, are not sure how the process works.
"I want to buy gold and take physical possession so I know what I have," said Derek Palisoul, a 37-year-old video producer from Dallas. "I'm used to signing on to my online account to manage my investments, but I can't do that to buy gold."
Palisoul's sentiment is typical. Like anyone else, investors are used to doing things a certain way, whether that's through a trusted broker, financial advisor or online brokerage account. These methods fall short when it comes to precious metals, though, forcing investors to take a more do-it-yourself approach and go straight to the source, without a middleman involved.
"We are seeing an increase in first-time precious metals investors," said John Hutmacher, President of the U.S. Gold Bureau, an authorized dealer for the U.S. Mint, who sells gold, silver and platinum bullion and certified coins direct to individual investors. "They are seeking to gain more control over their portfolio and shelter their investments from the turmoil of the stock market and the devaluing dollar."
The trust issue is more important than ever, as the lessons of the Madoff scandal, mortgage meltdown and bank failures are still fresh in the minds of many investors. "Our clients appreciate the back-to-basics approach of handling their own investments, especially when they can take delivery and hold their assets in their hands, instead of just checking a balance on a computer screen and trusting that the money will be there when they need it," Hutmacher said. "Owning precious metals gives investors the ultimate security, so they don't ever have to worry that what is supposed to be there is really there."
Before making a purchase from the U.S. Gold Bureau, clients can discuss their investment goals, risk tolerance and other factors with an account representative, but instead of talking about stocks and bonds, like they would with their investment advisor, the conversation centers around bullion and rare coins.
"Our account advisors are trained to identify specific coins that have a proven track record and we work to match our clients with the coins best suited to meet their investment goals," said Hutmacher. "Sometimes that's all bullion, sometimes it's all certified coins and sometimes it's a mix."
Precious metals dealers like the U.S. Gold Bureau are not affiliated with a brokerage company, so working with them is more similar to making a retail purchase than it is to buying a stock. Once a customer knows what they want, they place an order and the products (coins, proof sets, bullion bars, etc.) are shipped directly to the investor for safe keeping.
An important consideration for any investment is liquidity -- how easy it is to cash out an investment when the time comes. When a customer wants to liquidate, they can choose to sell their metals back to the U.S. Gold Bureau or offer them on the open market themselves.
"We guarantee that we will buy back anything we sell -- any product, any time, any reason," said Hutmacher. "Knowing that they will always have a willing buyer helps our clients feel more secure about diversifying their assets and investing in precious metals."
The U.S. Gold Bureau offers a free investment kit that provides a broad overview of the precious metals investment market. They also operate a public Gold Investment Hotline at (800) 775-3504.
# # #