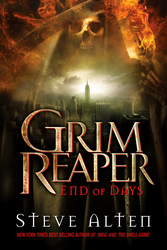 Chicago, IL (PRWEB) October 13, 2010
In a surreal coincidence, NY Times best-selling author Steve Alten's new thriller, GRIM REAPER: End of Days hit bookstores this week, almost to the day bubonic plague broke out in a Denver suburb. Described as a "modern-day Dante's Inferno," Grim Reaper takes place in 2012 when a man-made version of the Black Plague is unleashed in Manhattan. The hero, an injured war vet returning from his fourth deployment in Iraq, must journey through nine circles of suffering in order to bring the only vaccine to his estranged wife and child. As copies of the book were literally being loaded onto bookshelves throughout the U.S., health officials in Broomfield, Colorado discovered an outbreak of bubonic plague among prairie dogs in the area. In both fiction and front page, the common disease vector was plague-infected fleas.
The frightening pre-Halloween coincidences don't stop there. GRIM REAPER: End of Days draws historical parallels to the public's pre-election day angst toward politicians, Wall Street, and the greed and corruption that has mired society, noting the Black Death struck Europe following a period of greed and war, famine and corruption, with false prophets exhorting Christians to slaughter tens of thousands of Jews and Muslims. This "End of Days" event wiped out half the world's population, giving rise to a new figure depicted in 14th century art – the Grim Reaper.
More scary stuff: The Black Death occurred exactly 666 years before the prophesied 2012 date.
Says Alten, "Like Dante's Inferno, Grim Reaper represents the journey of the soul towards God, describing the recognition and rejection of sin. Both the Divine Comedy and Grim Reaper send a message: To every greedy banker and Wall Street executive, every corrupt politician, immoral priest and judge, and every person who spews hatred and malice towards their brother – Judgment Day is coming – and as you have sown, so shall you reap"
Outbreaks of bubonic plague in the U.S. are rare; less than two dozen humans infected each year, with 1 out of 7 being fatal. In GRIM REAPER, the author reveals how biowarfare labs are illegally weaponizing lethal viruses as a new precursor to invasion…including the anthrax mailed to Senators Dasche and Leahy after 9/11 – an anniversary that also occurred this week.
Steve Alten is the four time New York Times Best selling author of the MEG series (MEG, The TRENCH, MEG: Primal Waters, MEG: Hell's Aquarium). The books, about Carcharodon megalodon, the 70-foot prehistoric cousin of the Great White shark, have hit every major best seller list, including the New York Times list for both book and audio editions and have sold over a million copies worldwide. Steve's other books include the DOMAIN series (DOMAIN, RESURRECTION and PHOBOS), which centers on the Mayan Calendar's 2,000-year-old prophecy that predicts humanity will perish on December 21st of the year 2012. This book captured the attention of the History Channel and together with Steve they produced "Decoding the Past: Mayan Doomsday Prophecy" a program that became one of the highest rated specials for the channel.
PHOBOS is planned as a Fall 2011 release. Between the Domain novels, Steve penned GOLIATH (Tor/Forge), the story of a victim of oppression who hijacks the world's most dangerous nuclear sub. The LOCH, published in 2005 in hardback by Tsunami Books and has been called the quintessential thriller about the Loch Ness Monster. THE SHELL GAME released in 2008 about the games governments and the oil powers play in controlling the globe. MEG, Domain, and The Loch have all been optioned as major motion pictures.
Alten currently lives in Florida with his family. The author, who was diagnosed with Parkinsons Disease four years ago, has just completed a new non-invasive stem cell treatment that has significantly reduced his symptoms, allowing him to begin an extensive book tour beginning October 15th.
To learn more about Steve Alten, his novels, and his Adopt-An-Author program, designed to motivate secondary school students to read, visit his websites at http://www.SteveAlten.com and http://www.adoptanauthor.com.
All interview requests are being handled by Alten's publicist, Lissy Peace 312-573-2070, e-mail LissyPeace(at)aol(dot)com.
###