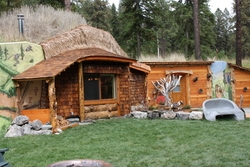 "This magical wonderland from the mind of JRR Tolkien is unbelievable - right out of the book"
Trout Creek, MT (PRWEB) October 15, 2010
In a remote valley in Northwest Montana visitors will find the Hobbit House of Montana. More than a bed to sleep in and a stove to cook on, the Hobbit House of Montana offers visitors a luxury lodging experience full of imagination, magic and yes, a truly unique retreat away from the hustle and bustle of everyday life.
The downturn in the economy would not stop the imagination and determination of Steve and Christine Michaels as the development and construction of the Hobbit House of Montana became a reality. The Hobbit idea didn't initially occur to Steve as he was originally building an imaginative vacation getaway for he and his family. Steve's projects have always won public admiration, but this one seemed to lack a bit of luster in his mind until the light bulb finally lit up! It came to him when the son of his contractor, Stan Hamm said that it resembled a Hobbit House, and his wife, Jamie, enthusiastically agreed. Jamie read all the Tolkien books, including the Hobbit and the Lord of the Rings trilogy and was well versed on the finer details of the tales. With photos of a Hobbit House built in Wales the Michaels began incorporating the images and characters found in JRR Tolkien's book in earnest and the idea transformed and the project took on a new life.
"If you are into Hobbits then the Hobbit House of Montana is a place for you to visit," says Steve. "At the time I had no idea there were Hobbit clubs and loyal followers (like Trekies from Star Trek), who live and breathe Hobbit and intimately know these stories." The project progressed using detail oriented research, enabling the structures and characters to materialize into a magical story land. Out of respect to many followers, the lovable characters of Frodo, Bilbo Baggins and Gandalf the Wizard have been incorporated into this overnight getaway.
"The Hobbit House is not just for fans of these classic stories; it is a haven where visitors can come, relax and rejuvenate. The Hobbit House is for anyone who wants a one of kind experience," continues Steve. "It offers all the amenities of a five star resort minus the restaurant with the seclusion of a cabin tucked away in the mountains of Montana."
Surrounding the hobbit home is a village that comes to life at night with the magical display of lights from the cavalcade of mushrooms that line Hobbit Lane to the lighted mural of a whole Hobbit Village. The excitement is heightened when these fairy structures begin to light up one after the other at dusk. If you are really lucky...and quiet, you may see the shadow of Bilbo Baggins or catch a glimpse of him at home as he likes to stay up night drinking ale and entertaining his friends from The Shire.
Steve has the uncanny ability to grab onto an idea and run with it to the nth degree. "I've never had so much fun letting my imagination just run wild. I'd wake up at night with a new idea and couldn't wait to meet with the contractor in the morning to start implementing it," says Steve.
Christine Michaels, Steve's wife, is more grounded than her husband and oversees the gardens and affairs of the Sprites and Fairies in the area. She knew from reading The Hobbit many years ago that hobbits like mushrooms so she commissioned a local artist to build over a dozen, large, luminescent mushrooms to light Hobbit Lane as the guests drive up into The Shire. And since hobbits like to eat at least six times a day, Chris has made it a point to share a special treat with each guest upon their arrival- a very large and distinctive Trollhouse cookie made with special fairy dust and hobbit ingredients! Chris also made sure that the kitchen is well equipped including a barbeque grill located on the deck outside the Hobbit House. The entire Hobbit Village overlooks their scenic Whitepine Alpaca Ranch which boasts an old fashioned, red barn built in 1918 and a pond that brings in a myriad of waterfowl including Baldwin the resident Bald Eagle, blue herons and many diving osprey who dine on the Cutthroat trout living in the pond. Guests might also see deer, elk, and moose swimming in the pond, coyotes, and mountain lions along with the occasional bear or wolf.
The 1,000 square foot guest cottage comes complete with one king bedroom and a very small, hobbit guest bedroom. It has XM Radio, HD-Satellite flat screen TV with a Blu-Ray CD player with a library of books and CDs. There's even a wood burning stove for those rare chilly nights; however the cottage stays a constant 55 degrees because it's entirely underground. Phone service is available but you must bring your own calling card for the land line as there is NO cell service in and among the Hobbits as it disrupts their ability to ponder and relax.
The Hobbit House of Montana will be available for rental starting mid-October. The rates are $348.00 per night for two persons with a two night minimum on weekends and holidays and must be guaranteed with a major credit card. Because of the intimate details and hand crafted displays, no pets or children are allowed. Advance reservations are required.
Enjoy the unique features of this Hobbit Land vacation, with an added twist of imagery and sophistication. The enchantment is almost spiritual and unlike anything you have ever seen before. The experiences could be Hobbit Forming.
The Hobbit House of Montana's web site is http://www.HobbitHouseofMontana.com. You can make your reservations by calling the Hobbit line at (866) 327-7757 or email us at Host(at)HobbitHouseofMontana(dot)com.
###