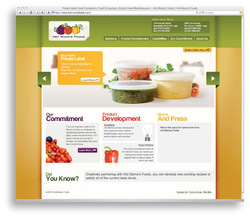 Auburndale, MA (PRWEB) October 14, 2010
Grant Marketing, the Boston based B2B brand development and integrated marketing communication specialist, has completed a major rebranding of Hot Mama's Foods.
Hot Mama's Foods, headquartered in New England and the Midwest, is a long-established leader in specialty food manufacturing, co-packing and private label production for innovative organic, all-natural, and conventional foods.
The comprehensive rebranding project for Hot Mama's Foods by Gant Marketing has included a vivid new corporate logo design, new corporate sales materials, and a complete redesign and expansion of Hot Mama's website at http://www.hotmamasfoods.com
The new Hot Mama's Foods website now allows customers to easily access news and information, request quotes, and view information on Hot Mama's expanded variety of food products; and learn about their upgraded private label program.
Additionally, the website clearly defines the growing partnership programs at Hot Mama's Foods with local, regional and national companies focused on delivering hummus, salsas, spreads and an assortment of other fresh and gourmet foods to a wide variety of food industries.
A dynamic new feature on the Hot Mama's website is the interactive "How Can We Help" module, allowing web visitors to locate proposed solutions by entering their job title and then selecting a food or food service category that best fits their need. The search quickly identifies compatible Hot Mama's solutions. This website also features sections for food brokers, private labeling, and copacking.
The Hot Mama's Foods new corporate branding, copy content, art direction and website design were all created by the Grant Marketing staff in Boston and their strategic web marketing partner, Pixelgroove in New York City.
Visit http://www.hotmamasfoods.com
For more information visit Grant Marketing at http://www.GrantMarketing.com
Grant Marketing, located in the Boston area, specializes in B2B marketing communications. Grant helps business to business companies with brand development, integrated marketing strategies, marketing plans, interactive marketing, website design, and web analytics. For more information visit Grant Marketing at http://www.GrantMarketing.com
# # #