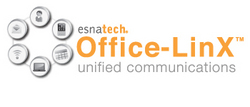 Esna's solutions add an intelligent application layer to any infrastructure to glue their existing on-premise systems to the new cloud apps they want for their organizations."
Richmond Hill, ON, Canada (PRWEB) October 15, 2010
Esna Technologies Inc. (Esnatech), a market leader in enterprise Unified Communications, has launched version 8.0 of its market-leading communication and collaboration software that enables mobility, messaging, and presence integration with both on-premise and cloud-based business applications and processes. Its support for VMware Vsphere™ allows organizations to take advantage of their existing virtualization investment and easily integrate Unified Communications services to their existing business infrastructure with minimal change and overhead investment.
"Unified Communications without the major RIP and Replace investment! One solution seamlessly integrated to the cloud leveraging my existing Cisco network! Esnatech enabled SEIU to seamlessly migrate to the cloud without missing a step and allowing us to retain our core voice communications! We not only flattened and consolidated our email by going to the cloud, but by leveraging Esnatech's cloud-based UC services we could flatten and consolidate all our major voice applications for our 1000 plus members on our Cisco voice network." — Randy Homyk, Senior CCIE Voice Consultant, SEIU.
Version 8.0 addresses specific enterprise requirements around communication and collaboration technology:
Enabling the value of Virtualization for Voice Communications

SIP (Session Initiated Protocol) based software platform that fully supports VMware virtualization within Vsphere
Organizations virtualizing their data infrastructure can seamlessly integrate Unified Communication services around mobility, messaging and presence without upgrading PBXs or adding any additional hardware to their network
The Cloud Enabled Enterprise

Integration of live voice services from an enterprise's existing PBX network (dialing, messaging, call control and presence) with Cloud based applications
Integrated unified communication services for Google™ Apps includes: unified messaging, IVR and auto attendant, fax services, Google™ Talk enterprise voice presence, and fixed-to-mobile convergence integration with existing phone network and mobile devices
Integrated dialing, presence and live call control with CRM and SFA solutions such as Salesforce.com and Microsoft Dynamics
Mobile Enterprise

Virtual access to your desktop phone from any smart phone or mobile device
Location based routing integrated with Bluetooth and GPRS location services
One number access, integrated with existing DID and corporate extension for secure mobility
Mobile and ubiquitous access to live communications on any operating system or mobile OS integrated with your existing corporate PBX or phone system
Unified access to voice, fax, email and recorded conversations directly from Google™ Gmail or from any enterprise email platform such as Microsoft Exchange 2010 and Microsoft BPOS
Presence Enabling Business Process

Google/MS Exchange Calendar integration for intelligent routing, filtering and connectivity
Presence enabled call processing for enhanced IVR and customer retention
Live, rich phone status federated with Google™ Talk, Skype, MSN Live and OCS to enable real-time communication and collaboration within the enterprise
Integration of Google, Salesforce and Microsoft Exchange contacts for intelligent call routing, VIP voice services and intelligent call connections leveraging Microsoft and Google desktop searches on incoming calls
"The two top agendas in a CIO's boardroom today are the discussions around virtualization of their on-premise infrastructure and applications and the integration of cloud-based services within their enterprise. Any technology that can address both issues as well as deliver immediate return on improved productivity and overall communication cost is a technology most enterprises need and want to invest in." — Davide Petramala, Vice President Sales & Marketing, Esnatech.
The Unified Communications market is growing strongly across North America. Most organizations with multiple locations have large investments in their existing voice infrastructure, but are looking for opportunities to flatten and consolidate their voice applications such as messaging and call routing. Office-LinX v.8.0 of Esnatech's communication and collaboration technology enables customers to centralize their voice applications across their network of locations and disparate phone systems. Organizations can deploy a centralized, scalable GEO-redundant architecture that will layer mobility, presence and messaging technology on top of their existing network and directly integrate with any business application, including on-premise and Cloud-based services such as Google™ Apps.
"Companies are looking for applications that enable efficiency and can be overlaid on their existing investment. Esna's solutions add an intelligent application layer to any infrastructure to glue their existing on-premise systems to the new cloud apps they want for their organizations." — Mohammad Nezarati, CEO/CTO, Esnatech.
Version 8.0 of Esnatech's Office-LinX Unified Communications platform is now released and generally available to the public. For more information, please visit us online at: http://esnatech.com/products/tol_v8.htm
About Office-LinX™
Esnatech's Office-LinX is a multi-OS, unified communications service that delivers rich presence, mobility and messaging for the Office-LinX UC platform. The Esnatech UC server is already tightly integrated with all major PBXs and VoIP services and it provides Mobile UC services to RIM BlackBerry, Apple iPhone/iPod/iPad, Google Android, Windows Mobile, and Symbian devices. Esnatech's UC platform can be deployed as a standalone UC solution or as an integrated application to existing PBXs and messaging solutions such as OCTel voice mail platforms.
About Esnatech
Founded in 1989, Esnatech's mission is to provide communication solutions that are simply the best way to communicate! Esnatech solutions empower organizations by giving them the flexibility to conduct business at any time, from anywhere, so they can manage the information they need, when they need it. Esnatech markets and distributes its products through OEM and VAR partners in 28 countries with over 1 million users deployed worldwide. For more information, visit: http://www.esnatech.com.
# # #