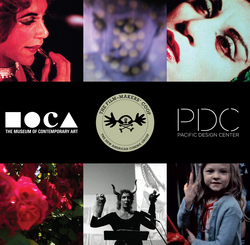 "For film lovers and filmmakers, this festival is an opportunity to be part of an event that brings so many of the iconoclasts of counter-culture cinema together in one place" Jeffrey Deitch, MOCA Director
Los Angeles, CA (PRWEB) October 14, 2010
The Museum Of Contemporary Art, Los Angeles (MOCA), with Pacific Design Center, and Charles S. Cohen present Counter Culture, Counter Cinema: An Avant-Garde Film Festival, a three-day celebration of films focusing on the long-term alliance between experimental cinema and counter-culture activity. The festival will be held at the SilverScreen Theater at the Pacific Design Center October 14 through October 16, 2010, and will cover the half-century from the early 1960s to the present, featuring films and videos that explore sexuality, politics, communal experiments, and transgressive appropriations. Co-curated by David E. James and MM Serra, the festival is comprised of films selected from the collection of the New American Cinema Group/New York's Film-Makers' Cooperative (http://www.film-makerscoop.com).
"This is an historic event that gives Los Angeles the opportunity to look back on the past 50 years of avant-garde cinema, " says Charles S. Cohen, PDC President/Owner and a MOCA Trustee. "We're honored to have some of the pioneers of the genre here in person to discuss their contribution to the art form."
"Many of the films featured in this festival are an important part of the curriculum at the best art schools in this country," said MOCA Director Jeffrey Deitch. "For film lovers and filmmakers, this festival is an opportunity to be part of an event that brings so many of the iconoclasts of counter-culture cinema together in one place."
"This event is a true celebration of the Film-Makers' Cooperative," said co-curator, David E. James. "It honors the importance of New York City in counter-culture cinema while recognizing Los Angeles's revitalized role in the movement."
MM Serra, executive director of the Film-Makers' Cooperative and co-curator of the event, considers the guest speakers a vital part of the program. "I have asked pioneer filmmakers Jonas Mekas, Ken Jacobs and Carolee Schneemann and a host of other filmmakers in the festival program to journey across the country with me for this historical East Coast-West Coast convergence of cinema innovation. Not only will attendees be inspired by the wonders of the alternative vision, but they can be a part of a rousing conversation with the leaders of the art form."
Counter Culture, Counter Cinema will be held in the SilverScreen Theater at the Pacific Design Center at 8687 Melrose Avenue in West Hollywood. A cocktail reception in the SilverScreen Theater Lounge at 6:30 pm will open the event on October 14. The opening program, entitled Underground Classics, will begin at 7:30 pm will feature Flaming Creatures (Jack Smith, 1963), Lupe (Jose Rodriguez-Soltero, 1966), and Fuses (Carolee Schneemann, 1964). The screening be followed by a panel discussion featuring David E. James, Jonas Mekas, Carolee Schneemann, and MM Serra.
Tickets are $10 for general admission and $8 for MOCA Members. Festival passes are $45 for general admission and $40 for MOCA Members. Proceeds will benefit MOCA and The Film-Makers' Cooperative. Visit http://www.moca.org to purchase tickets.
THURSDAY, OCTOBER 14
6:30pm Cocktail Reception and Welcome
7:30pm Program 1: Underground Classics
FRIDAY, OCTOBER 15
5:30pm Program 2: California Counterculture at the Film-Makers' Coop
7:30pm Program 3: Ken Jacobs Program
9:30pm Program 4: Jonas Mekas
SATURDAY, OCTOBER 16
3:00pm Program 5: Unruly Bodies, Transgressive Appropriations
7:30pm Program 6: Carolee Schneemann
9:30pm Program 7: The Art of Seeing: Underground Gems
For more information and program details, please see the festival's Facebook page: http://www.facebook.com/counterculturecountercinema and http://www.facebook.com/MOCAlosangeles
About The Curators: David E. James and MM Serra
David E. James lives in Los Angeles. His books include Allegories of Cinema: American Film in the Sixties and The Most Typical Avant-Garde: History and Geography of Minor Cinemas in Los Angeles. He edited the collections To Free the Cinema: Jonas Mekas and the New York Underground and Stan Brakhage: Filmmaker. Along with Michele Pierson and Paul Arthur, he co-edited the forthcoming collection of essays, Optic Antics: The Amazing Cinema of Ken Jacobs.
MM Serra is an experimental filmmaker, curator, author and the Executive Director of Film-Makers' Cooperative, the world's largest archive of independent media. Serra was the curator of a six-part experimental film series titled "Cinema of the Unusual" at P.S.1 Contemporary Art Center from 2007-2008. In 2007, Serra curated and traveled with the show "New York Experimental" in Warsaw and Paznan, Poland. In December 2008, the Office of Contemporary Art in Oslo, Norway, invited MM Serra to lecture at and curate a two hour program titled "Art (core): Avant Garde and the Cinematic Body". Her film work was included in the program of "New York Experimental", a four part historical overview of experimental film from 1946-2007. Her new film, Chop Off, premiered at the Sundance Film Festival and was screened at the Tribeca Film Festival and the Museum of Modern Art's Documentary Fortnight Series in 2009. Her chapter on the work of Carolee Schneemann, titled "Eye/Body: The Cinematic Paintings of Carolee Schneemann", was published in Anthology of Experimental Filmmakers by Duke University Press in 2007.
About Charles S. Cohen
Visionary developer Charles S. Cohen is known for his brilliant repositioning of commercial real estate. Mr. Cohen heads a multi-faceted real estate development company that develops, owns and manages more than 12 million square feet of prime office and showroom space in Los Angeles, Manhattan, Florida and Houston, including several of New York City's most prestigious Class A office building addresses. In addition to PDC, his design centers include the D&D Building, New York, Design Center of the Americas, Dania Beach, Florida, and the Decorative Center Houston, Houston. Mr. Cohen is also a museum trustee at The Museum of Contemporary Art (MOCA), Los Angeles, which is on site at the Pacific Design Center.
About Pacific Design Center
Pacific Design Center is the West Coast's leading resource for the interior design trades. With more than 130 showrooms and 2,200 interior product lines, PDC sells to the design professional. PDC serves the needs of the design, entertainment and arts communities by providing public and private conference spaces for lectures, meetings, special events, screenings, exhibitions and receptions. A premier, multi-use facility, Pacific Design Center features The Museum of Contemporary Art (MOCA); two Wolfgang Puck restaurants; Design Café by Food+Lab; SilverScreen Theater, a 388 seat state-of-the-art luxury film venue and reception facility featuring sound by Steinway Lyngdorf; and Blue Conference Center, a 200 seat facility fully equipped for lectures, conferences and public meetings.
About The Museum of Contemporary Art, Los Angeles (MOCA)
Founded in 1979, MOCA's mission is to be the defining museum of contemporary art. The institution has achieved astonishing growth in its brief history—with three Los Angeles locations of architectural renown; more than 13,500 members; a world-class permanent collection of nearly 6,000 works international in scope and among the finest in the nation; hallmark education programs that are widely emulated; award-winning publications that present original scholarship; and groundbreaking monographic, touring, and thematic exhibitions of international repute that survey the art of our time. MOCA is a private not-for-profit institution supported by its members, corporate and foundation support, government grants, and retail and admission revenues. MOCA Grand Avenue and The Geffen Contemporary at MOCA are open 11am to 5pm on Monday and Friday; 11am to 8pm on Thursday; 11am to 6pm on Saturday and Sunday; and closed on Tuesday and Wednesday. General admission is $10 for adults; $5 for students with I.D. and seniors (65+); and free for MOCA members, children under 12, jurors with I.D., active military, and everyone on Thursdays from 5pm to 8pm, courtesy of Wells Fargo. MOCA Pacific Design Center is open 11am to 5pm Tuesday through Friday; 11am to 6pm on Saturday and Sunday; and closed on Monday. Admission to MOCA Pacific Design Center is always free. For 24-hour information on current exhibitions, education programs, and special events, call 213/626-6222 or access MOCA online at moca.org.
About The New American Cinema Group/The Film-Makers' Cooperative
Founded in 1960 by a group of twenty-three artists in New York City, the New American Cinema Group (NACG) created a network to promote the "invisible, but essential nation of cinema" ignored by a "nation of commercial cinema" (Jonas Mekas). It included film-making luminaries such as Jonas Mekas, Ken Jacobs, Carolee Schneemann, Shirley Clarke, Andy Warhol, Robert Frank, and Jack Smith. The Film-Makers' Cooperative (FMC) was born out of this community as an artist-owned, artist-operated non-profit distribution, exhibition, and promotional organization. Fifty years later, the NACG/FMC is still a dynamic creative force of the counter-culture with an ever expanding community of over 900 artists and collection of 5,000 titles including rare prints and new media. Uncensored, Uncurated, Uncut and open to all.
MEDIA CONTACTS
For more information and details of the festival program:
The Marshall Plan, Kim Marshall
Tel. 310-452-1234
kim(at)themarshallplan(dot)com
PDC Director of Marketing Director, Elizabeth Chamberlain
Tel. 310-360-6404
echamberlain(at)pacificdesigncenter(dot)com
MOCA Director of Communications, Lyn Winter
Tel. 213 633 5390
lwinter(at)moca(dot)org
# # #