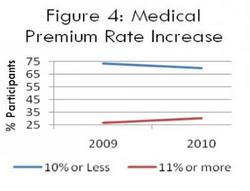 This is the second annual salary and benefits survey that we've conducted in the state of Tennessee and I'm delighted to report that participation in this year's survey rose by 30.5 percent over last year
Knoxville, TN (PRWEB) October 14, 2010
Tennessee's employers are reporting a lower monthly employee turnover rate than they did last year--and a rate that is just half of the national average. Even so, significantly fewer are planning merit increases than last year, and more are reporting a rise in their insurance premiums than last year. These are just a few of the key findings reported in the 2010 - 2011 State of Tennessee Salary, Wage and Benefits Survey, presented by Effective Resources, Inc., a leading human resources consulting firm.
The 2010 - 2011 survey encompasses data from 214 Tennessee employers who represent well over 1.3 million employees nationwide and more than 82,600 employees in Tennessee alone. The survey was sponsored by the Tennessee State Society for Human Resource Management Council, Inc. with the active support of the Tennessee Chamber of Commerce and Industry.
Among the findings of the 2010 - 2011 survey of Tennessee's employers:

The average monthly employee turnover rate for Tennessee is 1.7 percent--considerably lower than last year's turnover rate of 2.3 percent and just half of the national average of 3.4 percent as of July 2010.
The Hospitality & Restaurant sector experienced the highest turnover at 4.1 percent, while the Manufacturing/Distribution sector experienced the lowest turnover at 1.1 percent.
Roughly 56 percent of Tennessee's employers are planning merit increases for this year and next year--a significant decrease from the 70 percent who planned increases last year. The state's overall merit increase is projected to be 2.8 percent for this year and next year, which is lower than last year's projected increase of 3.5 percent.
Regarding employee benefits costs, the good news is that 69.6 percent of Tennessee employers reported an increase of 10 percent or less in their medical insurance premiums. The bad news is that 30.4 percent reported an increase of 11 percent or more in their premiums. Overall, 26.8 percent more employers reported higher premiums than last year.
In addition to sharing its statewide survey findings, Effective Resources, Inc. is sharing regional findings for East Tennessee, Middle Tennessee and West Tennessee.
The 2010 -2011 findings are broken out by a number of useful categories including industry, region, company size by employees, and company size by sales/assets. There are wage and salary data for 328 jobs in a variety of industry sectors including Banking, Finance & Insurance, Government/Education, Healthcare, Hospitality, Manufacturing/Distribution, Sales (retail/wholesale), Services (business/consumer), and more. In addition, there is extensive benefits reportage with details for medical premium increases, life insurance and disability plans, medical out-of-pocket costs, 401(k) matching, vacation and sick time, and other issues of importance for today's employers.
"This is the second annual salary and benefits survey that we've conducted in the state of Tennessee and I'm delighted to report that participation in this year's survey rose by 30.5 percent over last year," said Barry Brown, president of Effective Resources Inc. "This makes our data more encompassing and more relevant than ever, especially as a critical benchmarking and planning tool for the state's employers."
The 2010 - 2011 survey was conducted, tabulated and reported by SalarySurveyOnline.com, a web-based data collection and reporting system designed and managed by Effective Resources, Inc. To learn more about the surveys and their availability, visit http://www.salarysurveyonline.com.
Click here to view a complimentary Executive Summary for the State of Tennessee: https://www.salarysurveyonline.com/es.asp?refcode=pr2010TN
About Effective Resources
Effective Resources, Inc. is a leading human resources consulting firm specializing in providing companies assistance with compensation issues, affirmative action plan preparation, salary surveys and employee opinions surveys, as well as other areas of human resources. Effective Resources, Inc. has been in business since 1992. Visit our website at: http://wwwEffectiveResources.com
This press release was distributed through PR Web by Human Resources Marketer (HR Marketer: http://www.HRmarketer.com) on behalf of the company listed above.
# # #