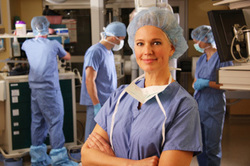 Nursing CEUs online are now simple and secure at HealthCMI.com using open source technology.
Capitola, CA (PRWEB) October 15, 2010
Nursing CEUs for nursing continuing education license renewal credit take the national stage using open source technology at http://www.healthcmi.com (Healthcare Medicine Institute). Open source content management systems have provided the scalability for HealthCMI to move from offering only California nursing CEUs (continuing education units) to a much larger audience with nationally certified ANCC / WSNA nursing continuing education courses. The ANCC, a subsidy of the ANA (American Nurses Association), provides course approvals that meet all requirements for all nurses in the USA. HealthCMI meets this demand with what Adam White, President of HealthCMI, calls "true open source technology."
Mr. White explains that while many technologies claim to be open source, in reality, they have "locked down" sections of the software disabling the ability of nursing continuing education providers to expand with increased demand. "Flexibility is the key," says White, "on any given day we may be required to change the parameters and logic of our website to meet new state and national nursing CEU license requirements. If we get boxed in by locked down source code, we're faced with enormous programming challenges. With true open source, there are no restrictions and no limitations to what we can provide nurses." White notes that using true open source technology provides security, scalability, and flexibility thereby making it the only choice for HealthCMI when providing nursing CEUs online.
"HealthCMI.com is nimble and can accommodate any computing device," notes White. He pointed out that the open source delivery system allows HealthCMI nursing continuing education courses to work on virtually any platform including Apple Macintosh, Windows PC, Linux, iPad, iPod, iPhone, Amazon Kindle, and most smart phones. This makes the nursing CEU process accessible to anyone with a computing device and simultaneously provides portability of medical information. "Nurses want a valuable experience with a simple and accessible interface when acquiring nursing ceus for nursing license renewal," says White. He states that HealthCMI's open source content management systems make all of this possible for nurses. Moreover, he notes that the large open source communities surrounding open source systems such as Joomla! and Drupal facilitate innovation with their enormous base of support and development.
About HealthCMI:
HealthCMI is the online division of the Healthcare Medicine Institute. HealthCMI provides nursing continuing education online courses for nursing ceu credits and acupuncture continuing education online for acupuncture ceu credits.
# # #