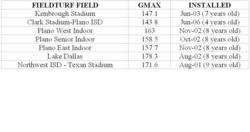 Gmax measurements were taken on numerous older FieldTurf fields throughout the state of Texas.
Atlanta, GA (Vocus) October 14, 2010
When it comes to player safety, nobody does it better than FieldTurf. Athletes require a surface which delivers proper traction for performance, and cushion for safety. Recent concerns over the hardness of a competing turf system in Texas caused FieldTurf to take a proactive approach in assuring that FieldTurf fields were safe by commissioning independent testing which confirmed that even FieldTurf's oldest fields in the State of Texas are well within the safety threshold (Gmax) desired for artificial turf playing fields.
Gmax measurements were taken on numerous older FieldTurf fields throughout the state of Texas. All of these results adhere to ASTM standards as well as the more stringent Maximum Safety & Performance (MSP) criteria developed for Gmax which states that a safe surface must be inside the range of 120g's-180g's.
Gmax is the industry standard for surface hardness and is a measurement for force applied via rapid deceleration. This measurement has been used in the synthetic turf industry since the 1960's as an indicator of surface hardness which has inevitably been linked to safety. The standard Gmax test is performed on turf systems whereby a turf sample is impacted 3 times before generating a result. (a "g" is a single unit of acceleration caused by gravity). For infilled synthetic turf surfaces, ASTM specifies that the reported Gmax value for all test points on a field should be less than 200 Gmax. If the standard isn't met, the field is considered unsafe and remediation is required.
As stated in the official ASTM standard concerning Gmax, "According to historical data, the value of 200 G is considered to be a maximum threshold. Values of 200 Gmax and above are considered values at which life threatening head injuries may be expected to occur."
No other artificial turf manufacturer in North America can provide this kind of reassurance when it comes to long-term Gmax results. This is due to the fact that competing products do not have nearly the same amount of infill cushion that the heavyweight FieldTurf product offers. Lightweight alternatives do not provide the necessary support needed to prevent surface-related injuries. FieldTurf also has more fields that are 8 years or older than all other turf companies combined. The Gmax results of just some of the older FieldTurf fields in Texas are shown to the right.
*All Gmax Tests on Fields Shown in Chart Conducted in 2010
###