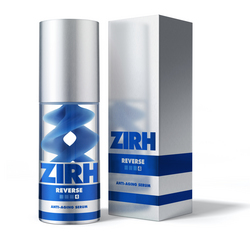 Miami, FL (PRWEB) October 18, 2010
P&G Beauty, a global leader in the beauty industry, has just launched REVERSE™ by ZIRH. REVERSE™ has a dual action formula that instantly transforms the surface look of pores, fine lines, and wrinkles and continues to moisturize and firm the skin, diminishing lines & wrinkles over time.
Men like the maturity and character that comes with aging. They recognize that looking good for their age means not aging beyond their years. Regular use of REVERSE™ manages these signs.
REVERSE™ is a unique dual phase serum designed for men that goes beyond traditional creams to deliver potent anti-aging results without heaviness. The blue helix at the core delivers soft-focus particles that instantly transform surface textures like lines, wrinkles, and pores, while the cooling vitamin & penta-peptide clear gel floods the skin barrier to firm it from below the surface, for younger looking skin over time.
4 KEY INGREDIENTS OF REVERSE™:
1. Niacinamide: Skin active that promotes a healthy skin barrier to reduce the appearance of fine lines & wrinkles.
2. Silicone Elastomer: Soft-focus particles that fill in surface texture to leave skin looking immediately smoother & younger.
3. Glycerine: A powerful moisturizer that binds water into upper layers of the skin & provides long lasting hydration.
4. Penta-peptide: Deep moisturization that enables the skin's natural collagen production process to be effective. Clinically proven to reduce the appearance of wrinkles & improve the look of aging skin.
REVERSE™ is different:
Immediate difference and long term benefit:
Some anti-aging products are great at giving long term benefits, but men want to see an immediate difference. REVERSE™ not only has a powerful blend of moisturizers & vitamins in the clear phase, which go to work to firm the skin & reduce signs of aging over time, but the blue helix provides a powerful stream of matte particles that instantly fill in surface pores, fine lines, & wrinkles for the look of smoother skin.
Uniquely designed for men:
REVERSE™ is specially designed to hold the blue & clear phases in suspension using natural forces. This avoids the need for binders used in making a traditional cream emulsion that can be sticky or heavy. Men love the cool look of the product and the light smooth feel.
Usage: Daily – preferably twice a day.
Suggested Retail Price for REVERSE: $45.00
REVERSE™ will be available for purchase at http://www.ZIRH.com and all major department stores and specialty stores beginning November 2010.
ABOUT ZIRH:
ZIRH is a leading worldwide manufacturer of men's skin care and shaving products. Our focus is on quality and convenience. ZIRH has been in business since 1995.
# # #