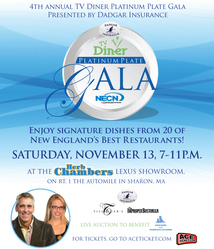 Boston, MA (PRWEB) October 14, 2010
Get ready, and get hungry, as TV Diner presents their fourth annual TV Diner Platinum Plate Gala on Saturday, November 13th, 2010, from 7:00PM – 11:00PM at super car czar Herb Chambers luxurious Lexus Showroom on Route 1 in Sharon, MA.
The hip foodie show doesn't hold an event every other month, so they save up all their mojo for this once-a-year gala extravaganza that attracts Boston's best talent from start to finish.
Attendees will marvel as Tillinger's transforms the Chambers space into a platinum themed wonderland complete with a dance floor and 25 of New England's best restaurants and fine food vendors using up every square inch of space serving their highly acclaimed signature dishes.
As if it isn't enough to nosh on the various culinary delights, guests of the gala can dance the night away to the sounds of the "Hip Pocket Orchestra," while hobnobbing with the evening's co-hosts, KISS 108 Radio host and NECN celebrity, Billy Costa and NECN personality Jenny Johnson.
The evening doesn't end with just plates of platinum-level food, dancing and special surprises, guests also get the chance to bid on high-end, once-in-a-lifetime items during the celebrity charity auction to benefit Horizons for Homeless Children whose mission is to improve the lives of homeless children and their families.
Had enough? Not yet. Guests of the Gala will also leave with a swag bag you'll need a pickup truck to get home.
Tickets for the TV Diner Platinum Plate Gala are only $100.00 and can be purchased by visiting http://www.necn.com/tvdiner
###