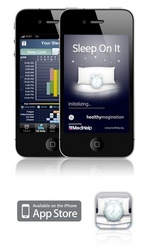 San Francisco, CA (PRWEB) October 14, 2010
MedHelp, the world's largest online health community, has partnered with GE to create and introduce a new, mobile app, Sleep On It, that helps improve users' sleep quality and impact overall health. The app is available as a free download on iTunes for the iPhone and iPod Touch.
Sleep On It is a virtual alarm that allows users to track nightly sleep patterns to determine what factors may affect their sleep and how much sleep they need each night to feel rested and energized. The app includes an alarm clock with a variety of sounds and a custom snooze setting. It allows users to track length and quality of sleep, as well as time spent snoozing and mood to see how sleep impacts overall health and quality of life.
"Good quality and sufficient sleep is vital to our health and well-being," said MedHelp CEO John de Souza. "Lack of sleep has been linked to serious health conditions ranging from diabetes to obesity, yet millions of Americans are not getting enough sleep. Sleep On It was designed to help consumers understand how much they are actually sleeping and how much they need to get to feel their best."
Additional features of the Sleep On It alarm app and sleep tracker app enable users to record their mood each morning to understand how much sleep they need to feel refreshed. It also allows people to record medications, health symptoms and naps to learn what triggers poor sleep cycles. A calendar view displays overall sleep trends, and easy-to-read charts detail sleep cycles and hours slept in the last seven, 30 and 90 days. Users can also register on Medhelp.org for additional online features, such as the ability to sync data to MedHelp's online Sleep Tracker application, access sleep information from any computer, and participate in MedHelp's medical support communities.
"GE has committed to helping people achieve better health through our healthymagination initiative by combining innovation with the latest technology," said Beth Comstock, senior vice president and CMO, GE. "By providing people with easy-to-use tools and readily available data, we can empower them to make better, more informed health decisions. The Sleep On It mobile app will help users get the rest they need to be healthier and more productive."
Sleep On It is the second in a series of mobile applications being developed by MedHelp and GE. The first was the popular iPhone pregnancy app, I'm Expecting, which was released in July. I'm Expecting is the most comprehensive free pregnancy app available and allows women to track their pregnancy symptoms and share info with their doctors or other users, get weekly updates on their baby's growth, upload photos of their growing baby bumps, send out birth announcements and more.
"We are excited to partner with GE on developing mobile apps that create new possibilities for consumers to track and analyze important health information," continued de Souza.
Both Sleep On It and I'm Expecting can be downloaded for free from the Apple iTunes App Store or from MedHelp.
About MedHelp
As the world's largest online health community, MedHelp empowers more than 10 million people each month to take control of their health and find answers to their medical questions. MedHelp, a privately-funded company, has more than 16 years of accumulated information from doctors and other patients across hundreds of conditions. MedHelp also features one of the largest offerings of free health tools, with more than 50 condition-specific tools and trackers. In addition, MedHelp has long-standing partnerships with the top medical institutions such as the Cleveland Clinic, Johns Hopkins, National Jewish Health, Partners Healthcare and Children's Hospital of Philadelphia. MedHelp's active community, comprehensive tools and medical partnerships make it a unique health destination on the Internet. For more information, visit http://www.medhelp.org.
About GE
GE is a diversified infrastructure, finance and media company taking on the world's toughest challenges. From aircraft engines and power generation to financial services, medical imaging, and television programming, GE operates in more than 100 countries and employs about 300,000 people worldwide. For more information, please visit the company's website at http://www.ge.com.
About healthymagination
Healthymagination is GE's $6 billion commitment that was launched in May 2009. Our "healthymagination" vision for the future invites the world to join us on our journey as we continuously develop innovations focused on reducing costs, increasing access and improving quality and efficiency around the world. For more information, visit http://www.healthymagination.com.
Media contacts:
MedHelp
Elizabeth Zeiter
elizabeth(dot)zeiter(at)medhelp(dot)org
415-882-4600
Katherine Solem
Katherine(dot)solem(at)medhelp(dot)org
415-882-4600
GE
Leigh Farris
leigh(dot)farris(at)ge(dot)com
203-373-2599
Kim Atwood
kimberly(dot)atwood(at)edelman(dot)com
917-450-9662
###