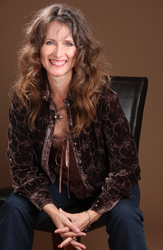 With my annual live Money, Marketing and Soul Intensive just a week away, being honored as a finalist in these categories just adds to my excitement. I am more sure than ever that I'm doing what I came here to do.
Tucson, AZ (PRWEB) October 14, 2010
The Stevie Awards for Women in Business honor women executives, entrepreneurs, and the companies they run – worldwide. The Stevie Awards have been hailed as the world's premier business awards.
Nicknamed the Stevies for the Greek word "crowned," winners will be announced during a gala event at the Marriott Marquis hotel in New York on Friday, November 12. Nominated women executives and entrepreneurs from the U.S.A and several other countries are expected to attend. The presentations will be broadcast live on radio in the U.S.A. by the Business TalkRadio Network.
Award-winning small business expert Kendall SummerHawk is the "Million Dollar Marketing Coach." She is the founder of The International Association of Women in Business Coaching (IAWBC) and the creator of the Money Breakthrough Method Coach Training Program (MBM) and the Certified Money, Marketing and Soul Coach Training Program (CMMS).
Kendall works with women to help them improve their relationship with money so they can experience the kind of success and financial freedom they've always wanted. Her marketing expertise and insight have helped countless women start and grow businesses that reflect their Soul's Divine Purpose
When told about being selected as a finalist in three categories SummerHawk said, "I am so honored to even be recognized for the work I do with women. I am committed to helping them reframe their relationship with money and this designation reminds me of how much I love my work and how much more I still want to do when it comes to teaching women to create money patters that will give them the strength, power and independence they want."
"It was harder than ever to be recognized in the Stevie Awards for Women in Business this year," said Michael Gallagher, president of the Stevie Awards. "Receiving a high score from the judges this year illustrates how well many women in business are doing despite the stiff challenges they face."
Kendall has spent a decade helping women get over their money drama and create businesses that feed their mind, body and purse. She recently put together a free video training course designed to help women stop sabotaging their income and start increasing their self-worth and net-worth. Interested people should go to http://www.mbmtrainingcourse.com to access the complimentary training.
# # #