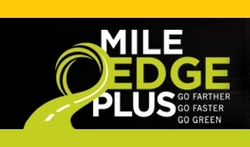 Two full years of engineering and over $1.5 Million have gone into perfecting this simple to install fuel saving device.
Thousand Oaks, CA (PRWEB) October 19, 2010
Mile Edge Plus, a Westlake Village, California Technology Company, promises increased fuel mileage and torque for SUVs, trucks and passenger cars with "the Edge". MEP backed the Edge with a 60-day money back guarantee. Try it for 60 days and if customers are not completely satisfied with the results, simply return it for a complete refund (less the shipping and handling charges). As an introductory offer the cost of the "Edge" fuel saving device has been reduced from $89.95 to just $49.95 for a limited time only.
How "the Edge" Works
Two full years of engineering and over $1.5 million have gone into perfecting this simple to install fuel saving device. Unlike other products that claim to increase mileage by making the air spin or more turbulent, the Edge uses Venturi technology to straighten the air and increase the speed of air being forced into the engine. When there is more air (oxygen) in the combustion chamber there is a more complete combustion, this in turn creates more torque, less emissions and better fuel mileage. MEP is fully aware that there are other fuel saving products that simply don't work, so MEP will offer a 100% money back guarantee if the claims are not substantiated on any vehicle. Find a fuel saving device for cars or trucks and start saving today.
Install the Edge in Minutes
The 'Edge' is designed to fit into the intake a vehicle's engine. (Simple instructions come with the device and videos are available on the MEP website on how to install this device. Total installation time is usually just ten minutes. The Edge device will increase air flow into the engine which in turn increases fuel mileage and engine power at the same time. The device is designed to perform for as long as the life of the car.
See the Results
The DynoJet Facilities in Las Vegas performed the tests on a variety of vehicles and the results came back with phenomenal results. Each vehicle had an increase of torque and improvement in gas mileage. On average each vehicle had an increase in torque of around 7% and and increase of 8% MPG. Click to see all the test result charts. Still do not believe the Edge works? Then MEP will challenge any publication or consumer group and how to set up an independent test for the satisfaction of the customer.
Please watch for MEP upcoming TV commercials starting very soon in Dallas & Atlanta on Fox Sports & ESPN 2.
The President of Mile Edge Plus, Mike McCloskey, will be more than happy to answer any questions, doubts or concerns. Contact him by phone or email.
# # #