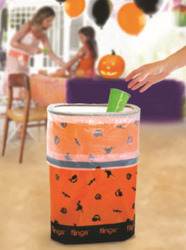 Take the trick out of your Halloween party clean up and get two Halloween Flings® pop-up trash cans for just one cent plus free shipping!
Englewood, CO (PRWEB) October 14, 2010
Take the trick out of your Halloween party clean up and get two Halloween Flings® pop-up trash cans for just one cent plus free shipping! Order two Halloween pop-up trash cans for just one penny plus $5 for standard shipping and handling at flingsbins.com. *Purchasers can receive a full refund on their credit cards for the shipping and handling by taking a picture of the Halloween portable trash can at a party; uploading it to their Facebook page; and linking it to the Flings Bins Facebook page at: Facebook.com/FlingsBins.
Just in time for this year's big trick-or-treat event, Flings Bins added a new Halloween design to its disposable trash bin line. The new collapsible trash container design features a pattern of black-silhouetted bats, jack-o-lanterns, cats and witches riding broomsticks on a bright pumpkin-orange background to blend into every Halloween party décor. Just, Pop it! Fill It! Toss it! Party clean up is a snap. Flings Halloween trash cans are perfect for candy wrappers, party trash and pumpkin carving party clean up.
In addition to the 2-for-1¢ offer, Flings® Pop-Up Trash & Recycle Bins have teamed up with party planner Jeanne Benedict to provide a free Bat House Decorating Party Idea on flingsbins.com that's inexpensive and eco-friendly! Keep those ghosts and goblins busy before or after trick-or-treating by turning half-gallon milk or juice containers into bat houses while snacking on bat-cakes. This craft is virtually mess-free and only takes a few supplies -- scrapbook paper, ribbon, stickers, double-stick tape and scissors.
"This Halloween party idea is great for all ages and is easy on the budget," explains Jeanne. "Building the bat house is a great, not-scary craft for little ones, while the bat-theme can set a creepy scene for 'tweens costuming in the vampire craze. Plus, the Bat House Cupcake Centerpiece and Bat House Crafts recycle household boxes and beverage containers. Having cupcakes as a snack creates a great no muss-no fuss Halloween party with easy party clean-up."
Visit the Flings Bins Web site for more information about hosting a Bat House Decorating Party. Flings Bins are available at flingsbins.com and select retailers in the paper products or trash bag aisles. The manufacturer's suggested retail price for Flings Pop-Up Trash Bins and Recycling Bins is under $4.
To set up an interview with Jeanne Benedict or for more information on Flings Pop-Up Trash Cans & Recycle Bins contact Kathryn Jordan or visit http://www.flingsbins.com and http://www.Facebook.com/FlingsBins.
Flings Bins is owned by TrashCo, Inc., a consumer products company dedicated to radically simplifying trash and recycling management for consumers. Headquartered in Englewood, Colorado, TrashCo is leading the way in materials and manufacturing processes that minimize the carbon footprint of its products. Its management team is comprised of seasoned entrepreneurs that identify unmet consumer needs and creatively graft improved sustainability into solutions that help change consumer trash and recycling habits.
Bat House Decorating Party used with permission of Jeanne Benedict. © 2010 JeanneBenedict.com. All rights reserved.
###